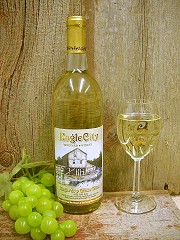 Eagle City Winery is introducing a new wine, 'Eagle City White Wine'. This wine is a highly aromatic, very fruity, medium sweet, white wine made from the fruit of the Eagle City Vineyard.

It is a blend of St. Pepin and LaCrosse grapes.

Look for it at your favorite wine outlet or stop by the winery and try a sample or a glass.

Also, we will probably be introducing another new wine in the near future. Watch for it!

Tentatively our Spring Open House will be June 8th and 9th. Watch the website for updates.