Hello Eagle City Winery Friends,
As the third oldest winery in Iowa we've learned a lot over the course of our history, from which grapes grow best and yield the sweetest juice; to staying true to our vision of being a quality small-lot wine producer. But, we couldn't do it without you and your support. That's why we host two annual Open Houses to share our love for wine and to spend time with you.
We're grateful for your business and glad you value independent, Iowa-made Eagle City wines. You're welcome to stop by for a free wine tasting, enjoy a picnic lunch, and/or share a bottle of wine among the vines.
Hope to see you soon,
Ken & Carolyn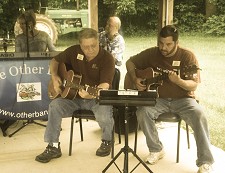 OPEN HOUSE - Thanks to everyone who attended our Spring Open House at Eagle City Winery. We're so happy to have you visit us and our open houses are our way to celebrate our passion for wine and spend time with you. We hope you can make it to our Fall Open House (Oct. 12-13).
SPECIAL EVENT at Eagle City Winery: Need a venue for your upcoming special event, wedding rehearsal, reception, reunion or party? Eagle City Winery has facilities and space available to rent. Please visit our website: www.eaglecitywinery.com or call 641-939-7755.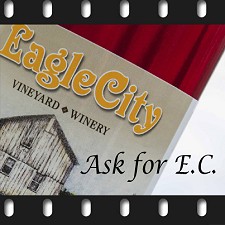 New Locations to Find Eagle City Wines:
- Dayton: Bella on Main, 37 S. Main St.
- Decorah: Donlon Healthmart Pharmacy, 201 W. Water St.
- Dubuque: Hy Vee Wine & Spirits, Asbury Plaza
- Dyersville: Ace Homeworks, 615 16th Ave SE
- Sac City: Homestead Farmers Market 2924 Rolf Ave.
- Spirit Lake: The Wild Rose Inn of Okoboji, 2625 41 St.
- West Des Moines: Wines of Iowa, 411 Railroad Pl.


FIND EC WINES: Please let us know if your favorite retailer isn't carrying Eagle City wines. You can find Eagle City wines at many Iowa locations: http://eaglecitywinery.com/pages/ - click on the Retail Outlet tab.
Wine Update: Eagle City White and Edelweiss will be out of stock until after harvest.
Vineyard News: Despite the long, cold winter this springtime has brought plenty of rain to recharge the parched earth from last summer's drought. Our vines are looking great and we're expecting a good harvest this fall provided we can adequately protect again disease and pests.
Wine Tastings Near You -- Help us support our retailers and try our wines!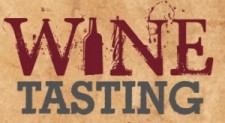 - July 20, Laurens Wine Festival, 11 to 4pm
- July 26, Zearing Days, Wine Tasting, Tennis Courts, 5 to 7pm
- July 27, Donlons Pharmacy, Nordic Fest, Decorah, 12 to 3pm
- October 5, Harvest Festival, Clear Lake
- October 12, Wine Around Town, Iowa Falls
- October 12/13, Eagle City Winery Fall Open House, Iowa Falls
FACEBOOK - "Like" us on Facebook, share your memories and photos. Find us here: www.facebook.com/EagleCityWinery