Hello Eagle City Winery Friends,
Summer is an exciting time of year around the winery and this year is no exception. We're proud of the comments made by our returning and new winery friends. Visitors frequently remark about the beauty of the winery/vineyard, the friendly atmosphere, and the quality of our wines. What can we say? We love what we do and are so happy you enjoy our wines and your experience at Eagle City Winery.
While we may not be the biggest winery in Iowa we strive to make the best wine and give you the best service around. We're so glad you support us by visiting our winery and purchasing our wines at your favorite wine retailer. Remember you're always welcome to stop by for a free wine tasting, enjoy a picnic lunch, and/or share a bottle of our tasty wines among the vines.
Hope to see you soon,
Ken & Carolyn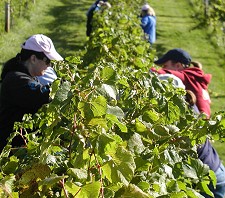 A FEW GOOD PICKERS WANTED - Ever wanted to be a part of the Eagle City Winery harvest crew? Each Fall we have an opportunity for a limited number of ECW fans to join us in the vineyard to bring in the crop of wine grapes. As always, harvest dates are determined by Mother Nature but we generally can expect to pick by the end of August or early September. Picking grapes is real work, but real fun work and in addition to the harvest experience, volunteers will receive a free lunch and bottle of wine (must be 21 years or older to receive the wine reward). Registration is on a first-come basis and limited to 20 volunteers.
Email Ken at winemaker@eaglecitywinery.com to sign-up.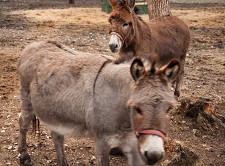 EXPECTANT MOTHERS - Ruby and Rita, our female donkeys are both due to foal within the next several weeks. As expectant mothers these two donkeys are busy picking out room colors and trying to decide on names. Let us know if you have any name suggestions and we'll pass it on.
WINE UPDATE: It's been a great year at Eagle City Winery and our dwindling wine supply tells us it's time to make more wine! Though our wine inventory is low we hope to be caught up bottling soon. We're excited about a new blush wine we're going to be releasing shortly made from a blend of several fruits, called "Harvest Blend." Look for it soon -- it's sure to be a new favorite!
IN THE VINEYARD: It's veraison time in the vineyard, the time of year when the grape berries begin to change color and marks an important step in the maturation process. Our grapes are looking healthy and happy and can't wait to become wine! By late August / early September we'll be ready to harvest and will be asking for a few helpers to pick our grapes.
FALL OPEN HOUSE - These past few days have reminded us of Fall and got us thinking about our upcoming Fall Open House. Crisp blue skies, fermenting wines, live entertainment, and donkey and tractor rides are part of the Eagle City Winery tradition. Plan ahead and bring your friends and family to our Fall Open House (Oct. 12-13).
NEED EVENT SPACE? Need a venue for your upcoming special event, wedding rehearsal, reception, reunion or party? Eagle City Winery has facilities and space available to rent. Please visit our website: www.eaglecitywinery.com or call 641-939-7755.
NEW RETAIL LOCATIONS:
Vinton: L'Marie Boutique, 915 W 4th St., Vinton, IA 52349.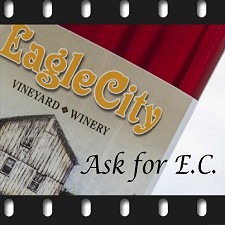 FIND EC WINES: Please let us know if your favorite retailer isn't carrying Eagle City wines. You can find Eagle City wines at many Iowa locations: http://eaglecitywinery.com/pages/ - click on the Retail Outlet tab.
WINE TASTINGS -- Help us support our retailers and try our wines!
October 5, Harvest Festival, Clear Lake
October 12, Wine Around Town, Iowa Falls
October 12-13, Eagle City Winery Fall Open House, Iowa Falls
FACEBOOK - "Like" us on Facebook, share your memories and photos. Find us here: www.facebook.com/EagleCityWinery