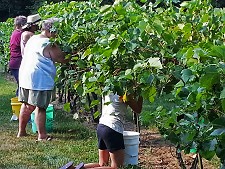 Hello Eagle City Winery Friends,
First, we want to thank you so much for attending our annual Fall Open House, it was our best one ever - record attendance! We had such a wonderful time seeing you again, meeting new friends, and enjoying the gorgeous weekend.
Now that November is here our thoughts are beginning to turn towards the holidays and reflecting back upon the year. And what a year! Despite the crazy growing season we had a nice harvest - thanks for helping, and the cellar has that great aroma of fermentation.
And with the holiday season fast approaching we hope our Eagle City wines are part of your celebration and gift giving. We are truly grateful for your business, friendship and wish you a fantastic fall!
See you soon!
Ken & Carolyn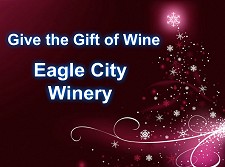 GIVE THE GIFT OF WINE - It won't be long before Thanksgiving, Christmas and New Year's Eve is upon us. Act soon to make sure you have your favorite Eagle City wine on hand for your parties, for dinner, and as a gift to your wine friends. DID YOU KNOW? You can save 5% at the winery on your Eagle City wine purchase when you buy six or more bottles?
WINE UPDATE: Eagle City White (a blend of St. Pepin and LaCrosse blend) is back in stock!!! We're still waiting on label approval for a new wine! This wine is a new blush wine made from a blend of Cranberry and Rhubarb, called "Harvest Blend." We are temporarily out of Riesling Reserve, Concord and Apple but these wines will be back on the shelf within a week.
NEED EVENT SPACE? Need a venue for your upcoming special event, wedding rehearsal, reception, reunion or party? Eagle City Winery has facilities and space available to rent. Please visit our website: www.eaglecitywinery.com or call 641-939-7755.
WINE TASTINGS - Help us support our retailers and try our wines!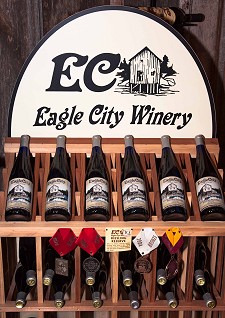 FIND EC WINES: Does your favorite wine store carry Eagle City wines? You can help us find new homes for our wines, simply by dropping us a note winemaker@eaglecitywinery.com or posting a note on our Facebook page.
You can find Eagle City wines at many Iowa locations: http://eaglecitywinery.com/pages/ - click on the Retail Outlet tab.
FACEBOOK - "Like" us on Facebook, share your memories and photos. Find us here: www.facebook.com/EagleCityWinery