Hello Eagle City Winery Friends,
It's been a long, cold winter and if you're like us you are ready for spring. Just this past Sunday, Punxsutawney Phil emerged from his burrow and proclaimed another six weeks of winter. Our hardy grape vines are also ready for the warmth of spring, followed by bud break and soon we'll wonder what ever happened to the long, cold days of winter.
Until then we are tending to our aging wines, preparing for the upcoming grapevine pruning and the busy summer ahead. If you can't make it to our winery you can always find our wines near you and, in fact, we ship to many states across the US. Your support during the winter months is very welcome and we are grateful for your business.
See you soon!
Ken & Carolyn

FEBRUARY HOURS: We are going to temporarily change our hours for the month of February. Saturday 10 to 5 and Sunday 1 to 5 as usual, closed on Monday; and Tuesday thru Friday by appointment, Call 641-648-3669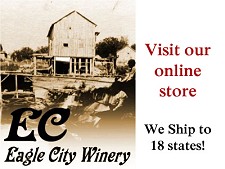 ONLINE STORE: Want to ship Eagle City wines to friends across the country? We currently ship our wines to 18 states across the US. Give your family and friends a taste of Iowa by sending them a bottle or two today!
Check out our online store: https://www.vinoshipper.com/wines/eagle_city_winery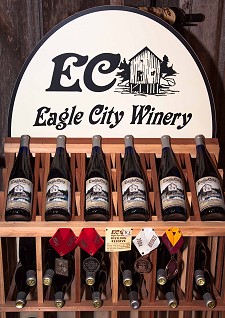 EC WINES IN IOWA: Does your favorite wine store carry Eagle City wines? You can help us find new homes for our wines, simply by dropping us a note winemaker@eaglecitywinery.com or posting a note on our Facebook page.
You can find Eagle City wines at many Iowa locations: http://eaglecitywinery.com/pages/ - click on the Retail Outlet tab.


WINE TASTINGS: Help us support our retailers and try our wines!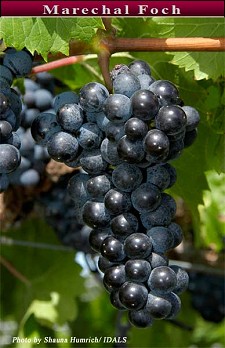 GRAPES OF IOWA: "Marechal Foch" (Mah-reh-shal Fosh). This cultivar was developed in France from a Riesling-type variety and a North American hybrid. It was originally developed for use in France as a replacement for native varieties that succumbed to the phylloxera blight of the late 1800s. It was named after French Marshal Ferdinand Foch, supreme commander of the allied armies in the latter half of World War I.
Also known as 'Foch', this is an important cultivar in the Midwest and Northeast. It is hardy to around -25F. Grapes are typically harvested around mid-season.
Foch can produce excellent red wines typically with deep purple color and often possessing Burgundian characteristics. These include a light to medium structure and dark berry fruit aromas and flavors. (Source: Iowa Dept. of Agriculture).


Ken suggests: "Try Eagle City Red, a highly aromatic, very fruit, medium dry red wine. It's tasty and is made from grapes from our own vineyard."
WINE UPDATE: Our wines from the Fall harvest are resting quietly in our tanks, maturing and before we know it, it'll be bottling time again.
VINEYARD UPDATE: Grape pruning season begins anywhere from late February through early spring. We're getting our pruning shears ready by sharpening them, taking a peek at our vines and crossing our fingers that this extremely cold winter hasn't harmed the vines too much. The good thing is the grape vines we have in the ground at Eagle City Winery are bred to handle the cold weather of Iowa. Think Spring!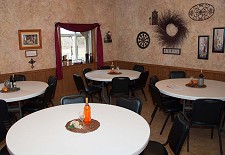 NEED EVENT SPACE? Need a venue for your upcoming special event, wedding rehearsal, reception, reunion or party? Eagle City Winery has facilities and space available to rent. Please visit our website: www.eaglecitywinery.com or call 641-939-7755.
FACEBOOK: "Like" us on Facebook, share your memories and photos. Find us here: www.facebook.com/EagleCityWinery
Thank you for your business and we hope to see you soon!