Hello Eagle City Winery Friends,
Happy June! The winery is bustling with visitors from around Iowa and several states this spring already. We're always so happy to have you visit, taste our wines and get to know you. Thanks for visiting and if you haven't been here for a while please stop by soon.
We invite you to our annual Spring/Summer Winery Open House (July 12-13) and hope you can make it this year. Our events are family-friendly and give us all a chance to reconnect (or if you're new to Eagle City Winery, a chance to visit a little and for you to try our wines).
Wed love to have you visit us soon and remember we're back to our normal business hours. Open Tuesday-Saturday: 10am to 5pm; Sunday: 1pm to 5pm; and closed Mondays.
Hope to see you soon!
Ken & Carolyn

SUMMER OPEN HOUSE: Spring/Summer Winery Open House at Eagle City Winery (July 12 and 13, 1:00 to 5:00 PM) - Free wine tasting , snacks, live music, tractor trolley rides in upper Eagle City Park and donkey cart rides behind EC the winery mascot. Bring your friends for a great afternoon of entertainment. Try our new wines Harvest Blend and Strawberry Wine!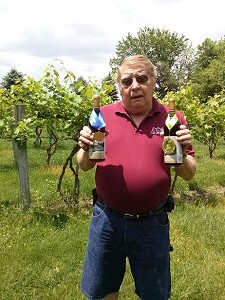 DOUBLE GOLD x2: Our Eagle City Winery Black Currant wine has been a hit at recent wine competitions earning top awards judged alongside some of the world's best wines. We are proud to announce our Black Currant wine has won Double Gold Medals at the Finger Lakes International Wine Competition as well as the Tasters Guild International Wine Competition; and has been a perennial favorite earning two gold medals in other competitions.
TRY BLACK CURRANT: Our wine is sweetened moderately and is made from fresh black currants (sometimes called, cassis). The flavor of black currant is often used to describe attributes of big, bold red wines, but tasting the real deal is a special opportunity. Visit Eagle City Winery to try this delicious and award winning wine this summer.


WINE UPDATE & INFO: Summer is the perfect time to visit Eagle City Winery during one of the beautiful June weekends. Plan your trip soon and try some of these wines:
Like sparkling wine? Try our American Golden Riesling, a sparkling wine that is mildly sweet and made to go well with graduations, weddings, anniversaries or other special occasions.

Eagle City Red: A highly aromatic, very fruity, medium dry, red wine. Made from the fruit of the Eagle City Vineyard.

NEW - Strawberry Wine: A medium sweet wine made from fresh strawberries, and is a wonderful taste delight.

Did you know our Cranberry and Raspberry wines are also Gold Medal winners?
NEED EVENT SPACE? Need a venue for your upcoming special event, wedding rehearsal, reception, reunion or party? Eagle City Winery has facilities and space available to rent. Please visit our website: www.eaglecitywinery.com or call 641-939-7755.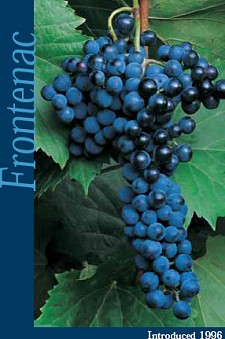 MEET FRONTENAC: Frontenac is a red wine grape. The aroma and flavor characteristics in 'Frontenac' are dominated by a bold cherry note with lesser hints of black current and general red fruit. Trained sensory panels have also identified notes of grass, green bean, evergreen and in some cases chocolate. When made in a rosé style, the nose and palate showcase a bright, Bing cherry note that is enhanced by an off-dry finish and moderate acidity.
As a red wine, the University of Minnesota described a deep garnet color, sometimes tinted with purple. Cherry notes predominate but are typical of black or sweet cherry rather than the brighter note of the rosé. Earthy and slight herbaceous notes round the palate, supported by a moderate acid backbone.
Frontenac has also been used to produce port-style wines of outstanding quality. The University of Minnesota found the higher acid levels balance the increased sugar beautifully, deepening the typical fruit notes into lush shades of cherry, raspberry, black currant, and stewed fruits. Some 'Frontenac' ports exhibit pronounced chocolate notes, which seems dependent on vineyard microclimate. (Source: ISU Extension).
NEW RETAIL OUTLETS: You can now find Eagle City wines at these fine retail locations. Visit: www.eaglecitywinery.com and click on "Retail Outlets."
ONLINE STORE: Want to ship Eagle City wines to friends across the country? We currently ship our wines to 18 states across the US. Give your family and friends a taste of Iowa by sending them a bottle or two today!
Check out our online store: https://www.vinoshipper.com/wines/eagle_city_winery
EC WINES IN IOWA: Does your favorite wine store carry Eagle City wines? You can help us find new homes for our wines, simply by dropping us a note winemaker@eaglecitywinery.com or posting a note on our Facebook page.
You can find Eagle City wines at many Iowa locations: http://eaglecitywinery.com/pages/ - click on the Retail Outlet tab.
ASK FOR QUALITY WINES. Not sure which Iowa wine to choose? Use your IQ. Wines with Iowa Quality (IQ) Wine Consortium seals have been independently tested and quality approved so choose confidently and enjoy Iowa Quality wine! We're proud to announce our newest wines: Harvest Blend and Strawberry are IQ approved - That makes a total of 13 Eagle City Wines that are Certified!
FACEBOOK: "Like" us on Facebook, share your memories and photos. Find us here: www.facebook.com/EagleCityWinery
SPRING/SUMMER HOURS: The winery is open Tuesday through Saturday from 10am to 5pm; Sunday from 1pm to 5pm; and closed on Mondays. Call 641-648-3669 if you have questions.
Thank you for your business and we hope to see you soon!