Hello Eagle City Winery Friends,
Labor Day is behind us now and Fall is just around the corner and in the winery business that means it's going to be getting extra busy soon! In no time at all we'll be busy in the vineyard picking our grapes, on our crush-pad processing those grapes, and then in the cellar making wine from those delicious little berries. Over the late Fall and Winter we'll tend to their fermentation and by Springtime some of our first wines will be ready for the bottle. It's a lot of hard work, fun, and just plain satisfying to make great wine in Iowa.
We're gearing up for our annual Fall Open House. This event is one of our favorites and we're looking forward to seeing you, so please accept this invitation to join us for our Open House (September 27-28). At the Fall Open House you'll enjoy free wine tasting, snacks, live music, tractor trolley rides in upper Eagle City Park and donkey cart rides behind EC the winery mascot. Bring your friends for a great afternoon of entertainment. Our events are family-friendly and give us all a chance to reconnect (or if you're new to Eagle City Winery, a chance to visit a little and for you to try our wines).
We'd love to have you visit us soon, we're open Tuesday-Saturday: 10am to 5pm; Sunday: 1pm to 5pm; and closed Mondays.
Hope to see you soon!
Ken & Carolyn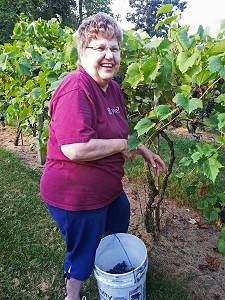 HARVEST VOLUNTEERS WANTED - Our wine grapes are now beginning to ripen and change to a rich color and that means one thing... harvest time is coming soon!
If you've ever wanted to be a part of a wine grape harvest here is your opportunity! Eagle City Winery is seeking volunteers to help us pick our grapes this fall. As of September 3rd our grapes are still a little under ripe (around 18% sugar and we're shooting for 22%) so it's still a little too soon to pick. However, we do anticipate they'll be ready in the next week or two. (Of course harvest date is ripening dependent - they need to be nice and ripe).
Since our weekend schedules are so packed we're going to try to schedule the harvest for a weekday. Your "Wine Reward" for helping us pick our grapes is a nice meal and a complimentary bottle of wine (must be 21 or over to receive the wine reward).
Interested? Send Ken a note of interest and we'll put you on our list - send to: Winemaker@eaglecitywinery.com -- include PICKING in the subject line.

FALL OPEN HOUSE - September 27 and 28: Plan to attend the annual Fall Winery Open House at Eagle City Winery (September 27 and 28, 1:00 to 5:00 PM) - Free wine tasting , snacks, live music, tractor trolley rides in upper Eagle City Park and donkey cart rides behind EC the winery mascot. Bring your friends for a great afternoon of entertainment. Try our new wines Harvest Blend and Strawberry Wine!


NEED EVENT SPACE? Looking for a location to hold a business retreat? Need a venue for your upcoming special event, wedding rehearsal, reception, reunion or party? Eagle City Winery has facilities and space available to rent. Please visit our website: www.eaglecitywinery.com or call 641-939-7755.
FACEBOOK - We're on Facebook and post regularly. If you haven't yet, please "Like" us on Facebook, share your memories and photos. Feel free to ask any wine-related question and we'll do our best to answer them promptly. Find us here: www.facebook.com/EagleCityWinery
ONLINE STORE - Have you ever wanted to send a gift bottle or case of Eagle City Winery wines to your family and friends living out of state? Good News! We currently ship our wines to 18 states across the US. Give your family and friends a taste of Iowa by sending them a bottle or case today! Check out our online store: https://www.vinoshipper.com/wines/eagle_city_winery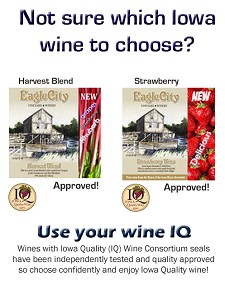 ASK FOR QUALITY WINES - Not sure which Iowa wine to choose? Use your IQ. Wines with Iowa Quality (IQ) Wine Consortium seals have been independently tested and quality approved so choose confidently and enjoy Iowa Quality wine! We're proud to announce our newest wines: Harvest Blend and Strawberry are IQ approved - That makes a total of 13 Eagle City Wines that are Certified!
NEW RETAIL OUTLETS - You can now find Eagle City wines at these fine retail locations. Visit: www.eaglecitywinery.com and click on "Retail Outlets."
EC WINES IN IOWA - Does your favorite wine store carry Eagle City wines? You can help us find new homes for our wines, simply by dropping us a note winemaker@eaglecitywinery.com or posting a note on our Facebook page.
You can find Eagle City wines at many Iowa locations: http://eaglecitywinery.com/pages/ - click on the Retail Outlet tab.