Hello Eagle City Winery Friends,
The beautiful autumn colors are beginning to show off in the hills and valleys around the Iowa River corridor and at Eagle City Winery. We've had a great summer and now that our harvest is behind us we're busy in the cellar managing our fermenting wines and getting ready for the next round of bottling.
We encourage you to get out and enjoy the gorgeous fall colors, stop by Eagle City Winery and taste our wines, visit with us, and pick up your wine gifts for the holidays - which are just around the corner!
We'd love to have you visit us soon, we're open Tuesday-Saturday: 10am to 5pm; Sunday: 1pm to 5pm; and closed Mondays.
Hope to see you soon!
Ken & Carolyn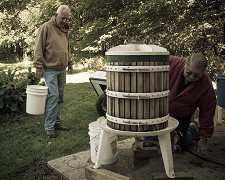 THANK YOU PICKERS! - We had a fantastic team of hard working volunteers come out to the vineyard a few weeks ago to help us bring in the 2014 wine grape crop. We started the morning off with coffee, doughnuts and good conversation and then it was out to the vineyard. The morning was cool but everyone's spirits were lively and by the afternoon all the grapes were picked. To those of you, who volunteered, thank you!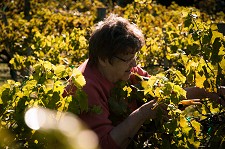 FALL OPEN HOUSE: - The Fall Open House was a record-breaking success! Old friends and new ones had two full days of fun at Eagle City Winery with free wine tasting, snacks, live music, tractor trolley rides in upper Eagle City Park and donkey cart rides behind EC, the winery mascot. Each year we have a spring and fall open house. Plan to attend our next open house in spring 2015!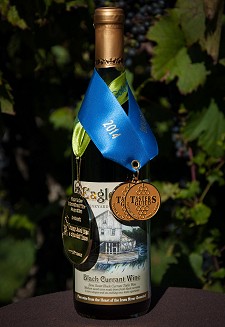 WINE UPDATES: - It's been a really great year for us at Eagle City Winery and consequently some of our wines are getting low. Here is an update: Harvest Blend (out of stock) and Strawberry (getting very low). Ken is busy making many new batches of wines and we'll post updates on our Facebook page as wines are replenished or begin to run low.
FACEBOOK: - We're on Facebook and post regularly. If you haven't yet, please "Like" us on Facebook, share your memories and photos. Feel free to ask any wine-related question and we'll do our best to answer them promptly. Find us here: www.facebook.com/EagleCityWinery
NEED EVENT SPACE?: - Looking for a location to hold a business retreat? Need a venue for your upcoming special event, wedding rehearsal, reception, reunion or party? Eagle City Winery has facilities and space available to rent. Please visit our website: www.eaglecitywinery.com or call 641-939-7755.
ONLINE STORE: - Have you ever wanted to send a gift bottle or case of Eagle City Winery wines to your family and friends living out of state? Good News! We currently ship our wines to 18 states across the US. Give your family and friends a taste of Iowa by sending them a bottle or case today! Check out our online store: https://www.vinoshipper.com/wines/eagle_city_winery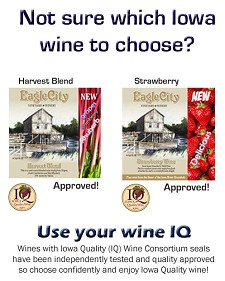 ASK FOR QUALITY WINES: - Not sure which Iowa wine to choose? Use your IQ. Wines with Iowa Quality (IQ) Wine Consortium seals have been independently tested and quality approved so choose confidently and enjoy Iowa Quality wine! We're proud to announce our newest wines: Harvest Blend and Strawberry are IQ approved - That makes a total of 13 Eagle City Wines that are Certified!

NEW RETAIL OUTLETS: - You can now find Eagle City wines at these fine retail locations. Visit: www.eaglecitywinery.com and click on "Retail Outlets".





EC WINES IN IOWA: - Does your favorite wine store carry Eagle City wines? You can help us find new homes for our wines, simply by dropping us a note winemaker@eaglecitywinery.com or posting a note on our Facebook page.
You can find Eagle City wines at many Iowa locations: http://eaglecitywinery.com/pages/ - click on the Retail Outlet tab.