Hello Wine Friends!
It's quiet in the cellar now with the subtle signs of fermentation barely audible and the aromas of the new wine filling the air. While the vineyard leaves have fallen and the vines are getting ready for hibernation we're getting ready for one of the busiest times of the year. The Holiday Season, November through early January, brings a lot of visitors to the winery to taste wine, visit and purchase gifts for friends and family (sometimes for themselves) and we relish the chance to talk with you one-on-one and share our passion for wine and tell our story. We look forward to seeing you soon!
Life is good at the winery and just recently another marriage took place, but this time the special occasion was for my son, Brian, and his new wife Tina. Congratulations!
We'd love to have you visit us. We're open Tuesday-Saturday: 10am to 5pm; Sunday: 1pm to 5pm; and closed Mondays.
Hope to see you soon!
Ken & Carolyn
WINE-A-RITA PARTY!: We want to thank everyone for attending our first Wine-A-Rita party a couple Saturdays ago. The event was a huge success and we had such a great time visiting with everyone. Thanks!
WINE TASTING: Join us at the Hy Vee Drug in Ames on November 7th (4-7p) for a wine tasting.
NEW RETAIL OUTLETS: We're pleased to let you know we've added a couple new retail outlets to our list of Eagle City Winery retailers. Welcome!
-Wildflower Florist & Coffee House in Reinbeck
-American Legion in Ackley is now serving our wine.
WINE AWARDS: The Tasters Guild Wine Lovers Competition just released the news that our Black Currant and Harvest Blend both took Gold Medals and Apple and Raspberry won Silver Medals. Which are your favorites?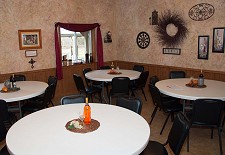 HOLIDAY PARTY SPACE? Do you need a special place for your upcoming holiday party? Are you looking for a location for your wedding? Need a venue for your upcoming special event, business retreat, reception, reunion or party? Eagle City Winery has facilities and space available to rent. Please visit our website: www.eaglecitywinery.com or call 641-939-7755.

WINE UPDATE: We are out of our delicious Edelweiss wine until next fall.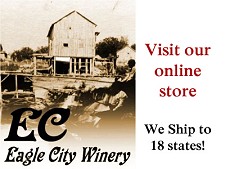 ONLINE STORE: Have you ever wanted to send a gift bottle or case of Eagle City Winery wines to your family and friends living out of state? Good News! We currently ship our wines to 20 states across the US. Give your family and friends a taste of Iowa by sending them a bottle or case today! Check out our online store: https://www.vinoshipper.com/wines/eagle_city_winery
WINE SMARTS - get to know more about wine terms and lingo. "Residual Sugar": Often referred to as RS, it is a measure of the amount of sugar remaining in the wine after fermentation stops. RS is usually measured in grams of sugar per liter or milliliter of wine, and it indicates how sweet or dry a wine is.
DID YOU KNOW? You can save 5% at the winery on your Eagle City wine purchase when you buy six or more bottles?
RETAIL OUTLETS. You can now find Eagle City wines at these fine retail locations. Visit: www.eaglecitywinery.com and click on "Retail Outlets."
EC WINES IN IOWA: Does your favorite wine store carry Eagle City wines? You can help us find new homes for our wines, simply by dropping us a note winemaker@eaglecitywinery.com or posting a note on our Facebook page.
You can find Eagle City wines at many Iowa locations: http://eaglecitywinery.com/pages/ - click on the Retail Outlet tab.
FACEBOOK - We're on Facebook and post regularly. If you haven't yet, please "Like" us on Facebook, share your memories and photos. Feel free to ask any wine-related question and we'll do our best to answer them promptly. Find us here: www.facebook.com/EagleCityWinery
ASK FOR QUALITY WINES. Eagle City Winery is proud to report 18 of our 20 wines are IQ certified! What does that mean?
Quality Wine Assurance - To increase consumer awareness of Iowa's wine quality the Midwest Grape and Wine Industry Institute has assisted the Iowa Wine Growers Association (IWGA) to establish the Iowa Quality Wine Consortium (IQWC).To be awarded IQWC status, wines submitted will need to pass both laboratory chemical analysis and sensory evaluation to be recommended by the Wine Institute Director and approved by the Iowa Quality Wine Consortium (IQWC) board.
A YEAR OF AWARDS: We measure the success of our wines in many ways. The first measure begins in the field, whether that field is a vineyard, orchard, field, or bog. Having exceptional fruit is the best step in creating great wines. Our winemaker, Ken, with years of experience, works magic in the cellar to create delicious wines each year. The second measure of success comes when you, our consumer, visits our winery and tastes and buys our wines. Your comments help guide our process. Finally, wine competitions bring expert wine judges together to critically taste and evaluate our wines. When our wines win medal at competition it simply reinforces what you've been tell us all along.
We're proud to report our wines did exceptionally well in competition this summer. At the Iowa State Fair Commercial Wine Competition our Raspberry won highest honors with a Double Gold medal and our Apple Wine won Silver. At the Mid-America Wine Competition our Harvest Blend won a Gold Medal, our Apple and Black Currant won Silver, while our new Chokecherry won Bronze. Finally, the Indianapolis International Wine Competition our wines earned Silver Medal for Chokecherry, Black Currant and Raspberry and our Apple won a Bronze Medal. We want to thank all of you for your continued support!