Hello Wine Friends!
Happy New Year! A lot of us make plans, goals or resolutions for the New Year and all too often we quickly lose interest or forget. We've got an easy-to-follow resolution that is both fun and easy to follow: Drink more Eagle City Winery wines!
January is the perfect month to visit us at the winery to get extra-special attention. We're open Tuesday-Saturday: 10am to 5pm; Sunday: 1pm to 5pm; and closed Mondays.
Hope to see you soon!
Ken & Carolyn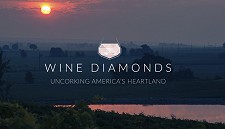 WINE DIAMONDS FILM - The producers of the independent documentary film, Wine Diamonds: Uncorking America's Heartland will be at Eagle City Winery on Saturday, January 9th to film an interview with winery owner and winemaker Ken Groninga. The film is documenting the new frontier of winemaking that's happening in the Midwest and the producers are in the final stages of production already having filmed throughout Iowa, Minnesota, Wisconsin and Illinois. Release date is Spring 2016 Learn more: www.winediamondsfilm.com
WINE SMARTS - get to know more about wine terms and lingo. "Residual Sugar" - Residual Sugar, often referred to as RS, is a measure of the amount of sugar remaining in the wine after fermentation stops. RS is usually measured in grams of sugar per liter or milliliter of wine, and it indicates how sweet or dry a wine is.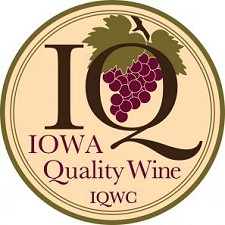 ASK FOR QUALITY WINES. Eagle City Winery is proud to report 18 of our 20 wines are IQ certified! What does that mean?
Quality Wine Assurance - To increase consumer awareness of Iowas wine quality the Midwest Grape and Wine Industry Institute has assisted the Iowa Wine Growers Association (IWGA) to establish the Iowa Quality Wine Consortium (IQWC).To be awarded IQWC status, wines submitted will need to pass both laboratory chemical analysis and sensory evaluation to be recommended by the Wine Institute Director and approved by the Iowa Quality Wine Consortium (IQWC) board.
PARTY SPACE? Do you need a special place for your upcoming holiday party? Are you looking for a location for your wedding? Need a venue for your upcoming special event, business retreat, reception, reunion or party? Eagle City Winery has facilities and space available to rent. Please visit our website: www.eaglecitywinery.com or call 641-939-7755.

ONLINE STORE: Have you ever wanted to send a gift bottle or case of Eagle City Winery wines to your family and friends living out of state? Good News! We currently ship our wines to 20 states across the US. Give your family and friends a taste of Iowa by sending them a bottle or case today! Check out our online store: https://www.vinoshipper.com/wines/eagle_city_winery
WINE UPDATE: We are out of our delicious Edelweiss wine until next fall.
DID YOU KNOW? You can save 5% at the winery on your Eagle City wine purchase when you buy six or more bottles?
RETAIL OUTLETS. You can now find Eagle City wines at these fine retail locations. Visit: www.eaglecitywinery.com and click on "Retail Outlets."
EC WINES IN IOWA: Does your favorite wine store carry Eagle City wines? You can help us find new homes for our wines, simply by dropping us a note winemaker@eaglecitywinery.com or posting a note on our Facebook page.
You can find Eagle City wines at many Iowa locations: http://eaglecitywinery.com/pages/ - click on the Retail Outlet tab.
FACEBOOK - We're on Facebook and post regularly. If you haven't yet, please "Like" us on Facebook, share your memories and photos. Feel free to ask any wine-related question and we'll do our best to answer them promptly. Find us here: www.facebook.com/EagleCityWinery