Hello Wine Friends!
We're so pleased to announce that Ken just won the 2016 Iowa Winemaker of the Year. Read below for more information. If you haven't been out to our winery in a while we'd love to see you soon!!
We're open Tuesday-Saturday: 10am to 5pm; Sunday: 1pm to 5pm; and closed Mondays.
Hope to see you soon!
Ken & Carolyn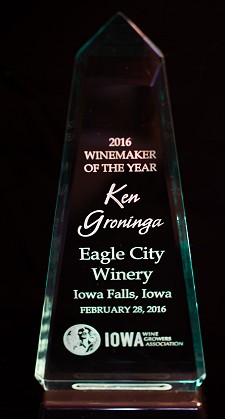 2016 IOWA WINEMAKER OF THE YEAR! We are so pleased and proud to announce that Ken, the owner and winemaker of Eagle City Winery, was recognized by his peers in the Iowa Wine Growers Association's annual conference this past Sunday as the 2016 Iowa Winemaker of the year.
Ken Groninga is one of original winemakers to begin the rebirth of the Iowa wine industry. He started making wine after he retired from veterinary medicine in 1992. And in 1996 he planted his vineyard near Iowa Falls and in 2000 was licensed as a winery.
Ken's always been a thoughtful and creative winemaker making wines from his own vineyard and sourcing fruits from around the region. As a small production winemaker Ken has been a source of inspiration to many new winemakers and has lent his expertise as a judge to several amateur wine competitions across the state.
As a supporter of the Iowa Wine Growers Association and the initiatives they help bring to life, Ken, is an ardent booster and active participant of the Midwest Grape and Wine Industry Institutes' Iowa Quality Wine Consortium's IQ program.
The quality of his wines stand as testimony to the IQ program and his determination to make great wines.
Please join us in congratulating Ken for this important achievement - 2016 Iowa Winemaker of the Year!
NEXT OPEN HOUSE is scheduled for June. We don't have a date yet but will post that on Facebook as soon as we do and include it in our upcoming newsletters.
GIFTS AND WINE SUPPLIES - Our gift shop, inside our tasting room, is filled with a wide variety of gifts and supplies for the wine lover in your life. We've got a fantastic selection of functional and attractive wine racks, wine supplies and tools, and cork cages where you can keep your collection of wine closures.
ONLINE STORE: Have you ever wanted to send a gift bottle or case of Eagle City Winery wines to your family and friends living out of state? Good News! We currently ship our wines to 20 states across the US. Give your family and friends a taste of Iowa by sending them a bottle or case today! Check out our online store: https://www.vinoshipper.com/wines/eagle_city_winery
WINE 101: Acids give wine tartness. In grape wine the prominent form of acid is Potassium Bitartrate or Tartaric Acid (or known by its baking name: Cream of Tartar). Several acids are in the grape before fermentation, and others arise afterward. Acids often make a wine seem "crisp" or "refreshing."
ASK FOR QUALITY WINES. Eagle City Winery is proud to report 18 of our 20 wines are IQ certified! What does that mean?
Quality Wine Assurance - To increase consumer awareness of Iowa's wine quality the Midwest Grape and Wine Industry Institute has assisted the Iowa Wine Growers Association (IWGA) to establish the Iowa Quality Wine Consortium (IQWC).To be awarded IQWC status, wines submitted will need to pass both laboratory chemical analysis and sensory evaluation to be recommended by the Wine Institute Director and approved by the Iowa Quality Wine Consortium (IQWC) board.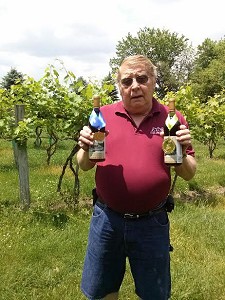 WINE COMPETITION: We've sent several of our wines to the Finger Lakes International Wine Competition and Tasters Guild Wine Competition. We'll let you know how we did later.
PARTY SPACE? Do you need a special place for your upcoming holiday party? Are you looking for a location for your wedding? Need a venue for your upcoming special event, business retreat, reception, reunion or party? Eagle City Winery has facilities and space available to rent. Please visit our website: www.eaglecitywinery.com or call 641-939-7755.
WINE UPDATE: We are out of our delicious Edelweiss wine until next fall.
DID YOU KNOW? You can save 5% at the winery on your Eagle City wine purchase when you buy six or more bottles?
RETAIL OUTLETS. Eagle City Winery wines are available across Iowa at many retailer locations. Wonder if we're near you? Visit: www.eaglecitywinery.com and click on "Retail Outlets."
EC WINES IN IOWA: Does your favorite wine store carry Eagle City wines? You can help us find new homes for our wines, simply by dropping us a note winemaker@eaglecitywinery.com or posting a note on our Facebook page.
You can find Eagle City wines at many Iowa locations: http://eaglecitywinery.com/pages/ - click on the Retail Outlet tab.
FACEBOOK - We're on Facebook and post regularly. If you haven't yet, please "Like" us on Facebook, share your memories and photos. Feel free to ask any wine-related question and we'll do our best to answer them promptly. Find us here: www.facebook.com/EagleCityWinery