Hello Wine Friends,
It's that time of year again when our cellar will be awash with the fruity fragrance of fresh pressed grapes and the heady aroma of fermentation in the air. Nothing like it!
We pick our wine grapes when the grapes are at their peak flavor and each year we invite our friends to help us with the fun harvest experience. Right now it looks like we'll be picking grapes within the next two weeks (either the first or second Saturday in September). Want to help? Read on for more information.
Visit us! Make sure to stop by the winery soon to try our wines and spend some time sipping wine and relaxing in our gathering room, wandering in our vineyard, and checking out our latest gift shop items. We're open Tuesday-Saturday: 10am to 5pm; Sunday: 1pm to 5pm; and closed Mondays.
See you soon!
Ken & Carolyn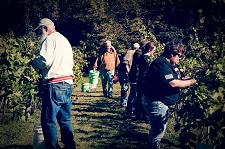 VOLUNTEER GRAPE PICKERS WANTED! Eagle City Winery is asking for help in picking our 2016 grape crop. Since we pick our grapes when they are at their peak ripeness we're planning to harvest on either the first or second Saturday in September.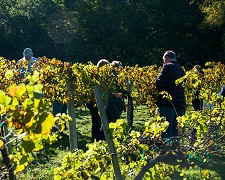 If you'd like to lend a hand for a few hours please send a note to Ken at winemaker@eaglecitywinery.com with VOLUNTEER in the subject line.
Volunteers over 21 are welcome and will be rewarded with a bottle of wine and lunch!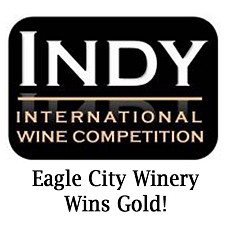 AWARD WINNING WINES: The results from the Indy International Wine Competition are out and Eagle City Winery won three medals from this important competition.
Gold Medals: Raspberry & Chokecherry
Silver Medal: Black Currant
Cheers to our winemaker Ken!


PARTY SPACE? Do you need a special place for your upcoming holiday party? Are you looking for a location for your wedding? Need a venue for your upcoming special event, business retreat, reception, reunion or party? Eagle City Winery has facilities and space available to rent. Please visit our website: www.eaglecitywinery.com or call 641-939-7755.
ASK FOR QUALITY WINES. Eagle City Winery is proud to report 18 of our 20 wines are IQ certified! What does that mean?
Quality Wine Assurance - To increase consumer awareness of Iowa's wine quality the Midwest Grape and Wine Industry Institute has assisted the Iowa Wine Growers Association (IWGA) to establish the Iowa Quality Wine Consortium (IQWC).To be awarded IQWC status, wines submitted will need to pass both laboratory chemical analysis and sensory evaluation to be recommended by the Wine Institute Director and approved by the Iowa Quality Wine Consortium (IQWC) board.
ONLINE STORE: Have you ever wanted to send a gift bottle or case of Eagle City Winery wines to your family and friends living out of state? Good News! We currently ship our wines to 20 states across the US. Give your family and friends a taste of Iowa by sending them a bottle or case today! Check out our online store: https://www.vinoshipper.com/wines/eagle_city_winery
GIFTS AND WINE SUPPLIES - Our gift shop, inside our tasting room, is filled with a wide variety of gifts and supplies for the wine lover in your life. We've got a fantastic selection of functional and attractive wine racks, wine supplies and tools, and cork cages where you can keep your collection of wine closures.
KEN ON CAMERA: The Wine Diamonds documentary film team visited us late last winter and filmed an interview with owner/winemaker Ken Groninga and then afterwards shot a short web series episode called, "on the road." Click here to watch the short video: https://youtu.be/w_djLgueJOg - learn more about the film project by visiting: www.winediamondsfilm.com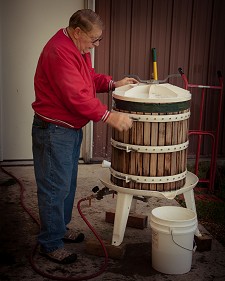 FUN WINE FACT: In ancient Greece, a dinner host would take the first sip of wine to assure guests the wine was not poisoned, hence the phrase "drinking to one's health." "Toasting" started in ancient Rome when the Romans continued the Greek tradition but started dropping a piece of toasted bread into each wine glass to temper undesirable tastes or excessive acidity.
DID YOU KNOW? You can save 5% at the winery on your Eagle City wine purchase when you buy six or more bottles?
RETAIL OUTLETS. Eagle City Winery wines are available across Iowa at many retailer locations. Wonder if we're near you? Visit: www.eaglecitywinery.com and click on "Retail Outlets."


EC WINES IN IOWA: Does your favorite wine store carry Eagle City wines? You can help us find new homes for our wines, simply by dropping us a note winemaker@eaglecitywinery.com or posting a note on our Facebook page.
You can find Eagle City wines at many Iowa locations: http://eaglecitywinery.com/pages/ - click on the Retail Outlet tab.
FACEBOOK - We're on Facebook and post regularly. If you haven't yet, please "Like" us on Facebook, share your memories and photos. Feel free to ask any wine-related question and we'll do our best to answer them promptly. Find us here: www.facebook.com/EagleCityWinery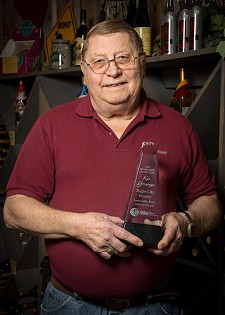 2016 IOWA WINEMAKER OF THE YEAR! Congratulations to Eagle City Winery owner/winemaker Ken Groninga for this important achievement.