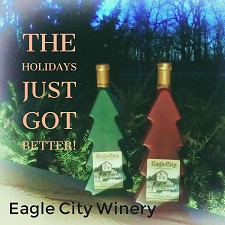 Hello Wine Friends,
We hope you had a wonderful Thanksgiving and have been enjoying the milder weather but soon, and we all know this, we'll up to our elbows in snow again. On the bright side there is wine! And as Christmas holiday fast approaches we like to remind our wine friends about our special holiday edition of Cranberry wines that are back for a limited time only, plus, there is nothing like getting or giving a bottle of wine as a present.
Did you know you can get a deal when you by six or more bottles of wine at our winery?
Visit us! Make sure to stop by the winery soon to try our wines and spend some time sipping wine and relaxing in our gathering room, wandering in our vineyard, and checking out our latest gift shop items. We're open Tuesday-Saturday: 10am to 5pm; Sunday: 1pm to 5pm; and closed Mondays.
See you soon!
Ken & Carolyn
SPECIAL CRANBERRY WINE IS BACK! We're very excited to announce our Christmas-Tree bottles of Cranberry Wine are now back while supplies last. We only made a limited quantity of this special wine and it's available at our winery right now! Hurry in and get yours today!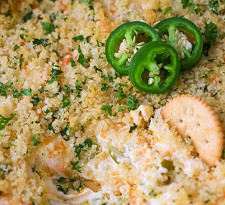 SNACK TIME WITH WINE: Looking for something easy to make and extra delicious for your upcoming holiday party? We've got a good one for ya!

Jalapeno Popper Dip
Prep: 10
Cooking: 15
Total: 25 mins


Ingredients
1 4oz can diced jalapenos, well drained OR 4-6 fresh jalapenos, roasted and diced (include seeds if you like it really spicy)

1 8oz package cream cheese, softened

1 cup sour cream

1 teaspoon garlic powder

2 cups shredded cheddar cheese

3/4 cup shredded parmesan cheese

Topping:

1 cup Panko bread crumbs

4 tablespoons butter or margarine, melted

1/4 cup shredded parmesan cheese

1 tablespoon fresh parsley
Instructions
Preheat oven to 375 degrees.

With a mixer on medium, combine cream cheese, garlic powder and sour cream until fluffy.

Add cheddar cheese, 3/4 cup parmesan cheese, and diced jalapenos, mix well.

Spread into an 8x8 baking dish.

Combine bread crumbs, melted butter, 1/4 cup shredded parmesan cheese, and parsley.

Sprinkle the crumb topping over the cream cheese mixture.

Bake15-20 minutes, or until hot and breadcrumbs are golden brown.
Pair this yummy and spicy dip with your favorite sweeter style Eagle City Winery wine, such as our Harvest Blend, Rhubarb or Edelweiss. Enjoy!
HOLIDAYS ARE COMING: The holidays will be here before you know it so now is the perfect time to stock up on Eagle City Winery wines. Bonus: You can save 5% at the winery on your Eagle City wine purchase when you buy six or more bottles?
ONLINE STORE: Have you ever wanted to send a gift bottle or case of Eagle City Winery wines to your family and friends living out of state? Good News! We currently ship our wines to 20 states across the US. Give your family and friends a taste of Iowa by sending them a bottle or case today! Check out our online store: https://www.vinoshipper.com/wines/eagle_city_winery
WINE UPDATE: We're temporarily out of Golden Riesling but we expect to have it back before Christmas!
KEN ON CAMERA: The Wine Diamonds documentary film team visited us late last winter and filmed an interview with owner/winemaker Ken Groninga and then afterwards shot a short web series episode called, "on the road." Click here to watch the short video: https://youtu.be/w_djLgueJOg - learn more about the film project by visiting: www.winediamondsfilm.com
PARTY SPACE? Do you need a special place for your upcoming holiday party? Are you looking for a location for your wedding? Need a venue for your upcoming special event, business retreat, reception, reunion or party? Eagle City Winery has facilities and space available to rent. Please visit our website: www.eaglecitywinery.com or call 641-939-7755.
GIFTS AND WINE SUPPLIES - Our gift shop, inside our tasting room, is filled with a wide variety of gifts and supplies for the wine lover in your life. We've got a fantastic selection of functional and attractive wine racks, wine supplies and tools, and cork cages where you can keep your collection of wine closures.
FUN WINE FACT: Okay, this time our wine fact is more of a wine tip, enjoy!
Party-Sized Mulled Wine Recipe
1 bottle (750 ml) Red Wine (preferably Eagle City Red)

1 1/2 cups Unfiltered Apple Juice/Cider

3 Tbsp Allspice berries

5 Cinnamon Sticks

Orange Peels for garnish

6 oz brandy* (*optional)
Directions: In a large pot, heat the apple juice, wine and spices together on the stove just until it starts to bubble on the sides of the pot. Strain the liquid into a glass and garnish with a curl of orange peel. (Source: Wine Folly)
DID YOU KNOW? You can save 5% at the winery on your Eagle City wine purchase when you buy six or more bottles?
RETAIL OUTLETS. Eagle City Winery wines are available across Iowa at many retailer locations. Wonder if we're near you? Visit: www.eaglecitywinery.com and click on "Retail Outlets."
EC WINES IN IOWA: Does your favorite wine store carry Eagle City wines? You can help us find new homes for our wines, simply by dropping us a note winemaker@eaglecitywinery.com or posting a note on our Facebook page.
You can find Eagle City wines at many Iowa locations: http://eaglecitywinery.com/pages/ - click on the Retail Outlet tab.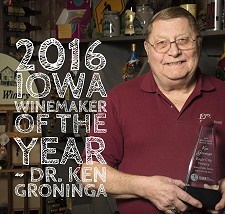 2016 IOWA WINEMAKER OF THE YEAR! Congratulations to Eagle City Winery owner/winemaker Ken Groninga for this important achievement.
FACEBOOK - We're on Facebook and post regularly. If you haven't yet, please "Like" us on Facebook, share your memories and photos. Feel free to ask any wine-related question and we'll do our best to answer them promptly. Find us here: www.facebook.com/EagleCityWinery
ASK FOR QUALITY WINES. Eagle City Winery is proud to report 18 of our 20 wines are IQ certified! What does that mean?
Quality Wine Assurance - To increase consumer awareness of Iowa's wine quality the Midwest Grape and Wine Industry Institute has assisted the Iowa Wine Growers Association (IWGA) to establish the Iowa Quality Wine Consortium (IQWC).To be awarded IQWC status, wines submitted will need to pass both laboratory chemical analysis and sensory evaluation to be recommended by the Wine Institute Director and approved by the Iowa Quality Wine Consortium (IQWC) board.