Hello Eagle City Winery Friends,
As final throes of a late August heat wave come to an end we are taking a deep breath in advance of our busy harvest season. Soon we'll be picking our grapes and our winery will have the familiar aroma of fermentation. We love it! If it's been a while since you've visited us at the winery, please make a plan to come out to see us soon.
We're so glad you support us by visiting our winery and purchasing our wines at your favorite wine retailer. Remember you're always welcome to stop by for a free wine tasting, enjoy a picnic lunch, and/or share a bottle of our tasty wines among the vines.
See you soon!
Ken & Carolyn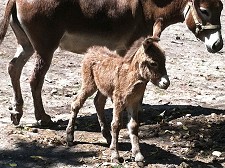 PROUD MOMMAS - Ruby and Rita, our female donkeys both gave birth to two health female baby donkeys, called "Jennies", in August. We launched a "name-those-babies" contest and was overwhelmed and pleased by the response. After some deliberation by Ken, winemaker/owner, and in consultation with mothers Rita and Ruby the follow was decided:
For Rita's newborn, the name Briana was given. Briana is a white French American Hybrid grape that grows in Iowa. This name was chosen by Courtney Friest of Hubbard, Iowa. Ruby on the other hand chose the name Sherry which is a fortified dessert wine. This name was submitted by Marlene Francis-Bringolf of Webster City, Iowa. We think the moms will like these names for their little girls. And, thank you for your interest and help in choosing such great names.
Congratulations to the winners. The winners can either pick up their wine at the winery or if they wish they can contact Ken at winemaker@eaglecitywinery.com for other options.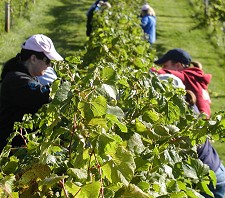 GRAPE HARVEST - Registration for volunteer grape pickers is closed, but we want to say thank you to all of you who signed-up early. For those of you that didn't sign-up or were too late in registering, we hope to see you at next year's harvest. For those registered pickers it looks like harvest will be Saturday, Sept 7. We'll start with coffee and donuts at 8am and then start harvest at 9am, lunch at noon, done by mid-afternoon and go home with a bottle of wine.
WINE UPDATE: It's been a great year at Eagle City Winery and our dwindling wine supply tells us it's time to make more wine! Though our wine inventory is low we hope to be caught up bottling soon. We're excited about a new blush wine we're going to be releasing shortly made from a blend of several fruits, called "Harvest Blend." Look for it soon -- it's sure to be a new favorite!
IN THE VINEYARD: It's getting time to harvest. Soon we'll be harvesting our 2013 vintage and making some new wine!
GHOST TOWN TOUR: The third Hardin County Ghost Town Bus Tour will take place on Saturday, September 14th and will make a stop at Eagle City Winery.
Here is some info: The tour begins with a short locally produced video presentation that gives an overview of the history that will be presented on the three hour tour. After viewing the video, riders will board tour buses to visits the actual location of four ghost towns within the county. At each location those on the tour leave the bus where actors and storytellers dressed in period costumes portray individuals from history and tell of events that happened to them or took place in their town. Riders then return to the bus and travel to the next town. Along the way bus tour guides will point out items such as old railroad beds, private cemeteries and other landmarks that are woven into the story. Click here for more information: www.steamboat-rock-historical-society.com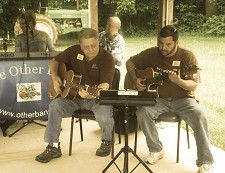 FALL OPEN HOUSE - These hot days make us really look forward to the fall and with it comes our annual Fall Open House. Crisp blue skies, fermenting wines, live entertainment, and donkey and tractor rides are part of the Eagle City Winery tradition. Plan ahead and bring your friends and family to our Fall Open House (Oct. 12-13).
Don't want to drive home? The Upper and Lower Eagle City Parks are located directly adjacent to the winery and they are open for primitive camping at no charge. How about a bottle of wine around the campfire?
NEED EVENT SPACE? Need a venue for your upcoming special event, wedding rehearsal, reception, reunion or party? Eagle City Winery has facilities and space available to rent. Please visit our website: www.eaglecitywinery.com or call 641-939-7755.
FIND EC WINES: Please let us know if your favorite retailer isn't carrying Eagle City wines. You can find Eagle City wines at many Iowa locations: http://eaglecitywinery.com/pages/ - click on the Retail Outlet tab.
WINE TASTINGS -- Help us support our retailers and try our wines!
October 5, Harvest Festival, Clear Lake

October 12, Wine Around Town, Iowa Falls

October 12 and 13, Eagle City Winery Fall Open House, Iowa Falls
FACEBOOK - "Like" us on Facebook, share your memories and photos. Find us here: www.facebook.com/EagleCityWinery