Hello Eagle City Winery Friends,
As December arrives the winery is bustling with activity: visitors stopping by to taste our wines and purchase presents, shipments of wine going out to our retail outlets throughout Iowa, and through it all we are racking (transferring our clearing wines to new tanks) and evaluating our young wines, which we are pleased to say are coming along nicely.
And with Christmas fast approaching we hope our Eagle City wines are part of your celebration and gift giving. We are truly grateful for your business, friendship and wish you a wonderful winter!
See you soon!
Ken & Carolyn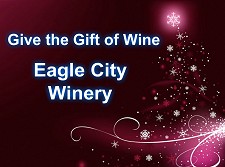 GIVE THE GIFT OF WINE - As a gesture of the spirit of the holiday season and in appreciation of our wonderful customers, we'd like to extend the following offer to our customers.
Purchase 6 bottles of wine, get 5% off
or
Purchase 12 bottles of wine, get 10% off
Wine makes the perfect gift for friends and family. And how about that co-worker or hard-to-buy-for boss of yours? Maybe the person that delivers your mail or picks up your trash? And while you're thinking about it, why not bring home a bottle or two to enjoy for yourself?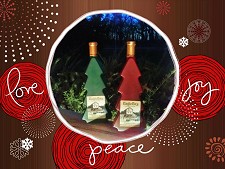 WINE UPDATE: Limited Release: Newly bottled in a special holiday package is our delicious Cranberry wine. Our Cranberry is a dark, full bodied, moderately oaked wine made from fresh, ripe Wisconsin cranberries. We are still waiting for label approval for our new blush wine called, Harvest Blend.

WINE TASTINGS - Help us support our retailers and try our wines!
December 6 - Hubbard, Hometown Foods, 4 to 6 PM

December 15 - Independence, Larees, 12:30 to 3 PM

NEED EVENT SPACE? Need a venue for your upcoming special event, wedding rehearsal, reception, reunion or party? Eagle City Winery has facilities and space available to rent. Please visit our website: www.eaglecitywinery.com or call 641-939-7755.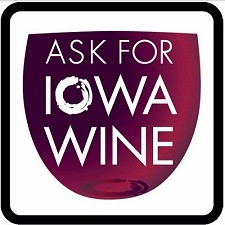 FIND EC WINES: Does your favorite wine store carry Eagle City wines? You can help us find new homes for our wines, simply by dropping us a note winemaker@eaglecitywinery.com or posting a note on our Facebook page.
You can find Eagle City wines at many Iowa locations: http://eaglecitywinery.com/pages/ - click on the Retail Outlet tab.

FACEBOOK - "Like" us on Facebook, share your memories and photos. Find us here: www.facebook.com/EagleCityWinery
Thank you for your business and we hope to see you soon!