Hello Eagle City Winery Friends,
Happy New Year! As we reflect upon 2013 we think fondly back to the busy, early springtime of pruning our grapevines, the constant tending of the fermenting wines, our fun and busy summer meeting new friends and sharing our wines, and urgency of the fall harvest and the help we got from so many of our friends, fans and family during the pick. And now, while it is somewhat quiet in the cellar, we monitor our aging wine and have to smile. 2013 was a great year. Thank you.
Even though 2013 was wonderful we are really looking forward to a prosperous and fun 2014. We are so thankful you continue to visit us and buy Eagle City wines. It's especially enjoyable to see old friends, hear from you on Facebook and meet new wine friends as they explore their way through the Iowa landscape. We hope you continue to enjoy our wines, share them with your friends and visit us every once in a while.
See you soon!
Ken & Carolyn


WINE UPDATE: Our specially bottled Christmas tree bottles of cranberry wine were a big hit and sold out quickly. Feel like trying something different? Have you tasted "Ruby" yet? Ruby is our "port-style" or fortified wine that is especially delicious as a before dinner aperitif or afterwards as a dessert-in-a-bottle. It's delicious!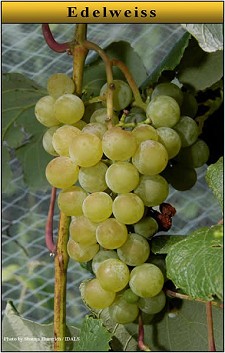 GRAPES OF IOWA: "EDELWEISS (Adel-Vise)." This cultivar was produced by Elmer Swenson, a pioneering grape breeder who introduced a number of new cultivars that are hardy in the Upper Midwest. It was introduced by the University of Minnesota.
Edelweiss vines are very winter hardy (reportedly to -30F) and show good disease resistance. It is an important varietal in the northern part of the U.S. Vines produce large, loose clusters of early ripening, large, pale gold grapes.
The grapes are often used to make sweet, aromatic, white wines with mild fruity flavors. Flavors are typical of the native grape species Vitis labrusca and are often referred to as "foxy". Edelweiss is also planted for grape juice and table grape production. (Source: Iowa Dept. of Agriculture).
Ken suggests: "Try Eagle City Winery's Edelweiss, a very fruity and highly aromatic sweet white wine made from Iowa grown Edelweiss grapes. It's a real taste delight."
VINEYARD UPDATE: Extremely cold temperatures can injure or kill grapevines. However, many of the wine grapes grown in our part of the country are made from "cold-hardy" varietals, meaning they are bred to withstand very cold temperatures. We're hoping this recent cold-snap hasn't hurt our grapevines too much.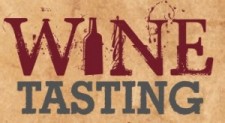 WINE TASTINGS: Help us support our retailers and try our wines!

NEED EVENT SPACE? Need a venue for your upcoming special event, wedding rehearsal, reception, reunion or party? Eagle City Winery has facilities and space available to rent. Please visit our website: www.eaglecitywinery.com or
call 641-939-7755.
FIND EC WINES: Does your favorite wine store carry Eagle City wines? You can help us find new homes for our wines, simply by dropping us a note to winemaker@eaglecitywinery.com or posting a note on our Facebook page.
You can find Eagle City wines at many Iowa locations: http://eaglecitywinery.com/pages/ Click on the Retail Outlet tab.
FACEBOOK: "Like" us on Facebook, share your memories and photos.
Find us here: www.facebook.com/EagleCityWinery
Thank you for your business and we hope to see you soon!