Hello Eagle City Winery Friends,
With the official start of spring only a few weeks away we look out over our vineyard, still covered with crusty snow and temperatures below zero and patiently wait. Our vines are tough but this has been a very challenging winter for our grape vines and we're hopeful they will feel the warm sunshine of spring and sprout with beautiful green shoots just as soon as they can.
While spring is just around the corner we're really excited to let you know we've finally gotten label approval for two new wines: Harvest Blend, a blend of grapes, cranberry and rhubarb; and Strawberry Wine, made with fresh strawberries.
We're still keeping abbreviated winery hours until this weather breaks, so before you stop by, please give us a call. If you can't make it to our winery you can always find our wines near you and, in fact, we ship to many states across the US. Your support during the winter months is very welcome and we are grateful for your business. Thank you.
See you soon!
Ken & Carolyn

MARCH HOURS: We are going to temporarily change our hours for the month of March. Saturday 10 to 5 and Sunday 1 to 5 as usual, closed on Monday; and Tuesday thru Friday by appointment.
Call 641-648-3669

WINE UPDATE: We're excited to let you know we're making two new wines at Eagle City Winery! Both wines will be ready within several weeks, so follow our Facebook Page to keep up-to-date with specific release dates. Here is some information about our newest wines: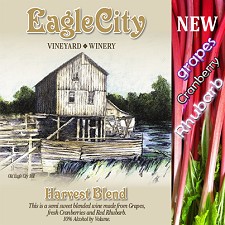 Harvest Blend: If you love wines that are easy and fun to drink, then you'll love this new wine of ours. Harvest Blend is a semi sweet blended wine made from Grapes, fresh Cranberries and Red Rhubarb.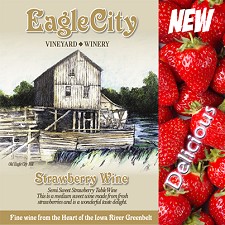 Strawberry Wine: Have a glass of summer? Oh yeah! This is the real-deal, made from juicy, red, ripe delicious strawberries. Our Strawberry Wine is a medium sweet wine made from fresh strawberries and is a wonderful taste delight.





NEW RETAIL OUTLETS. You can now find Eagle City wines at these fine retail locations.
Grundy Center, IA: Family Foods, 1400 G Ave.

Radcliffe, IA: It's All Good, 213 Isabella St.

Sheldon, IA: Hy Vee Wine and Spirits, 1989 Park St.

Storm Lake, IA: Al's Liquors, 215 West Milwaukee St.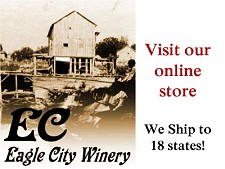 ONLINE STORE: Want to ship Eagle City wines to friends across the country? We currently ship our wines to 18 states across the US. Give your family and friends a taste of Iowa by sending them a bottle or two today!
Check out our online store: https://www.vinoshipper.com/wines/eagle_city_winery

WINE TASTINGS: Help us support our retailers and try our wines!
April 6 - Algona, IA: Waters Edge, 2 to 4 PM

April 11 - Story City, IA: Story City Mall, 6 to 9 PM

DID YOU KNOW there are six different wine trails in Iowa? Eagle City winery is part of the Heart of Iowa Wine Trail. Here is a complete list:
Iowa Wine Trail

Heart of Iowa Wine Trail

I-80 Wine Trail

Iowa Wine Trail

Scenic Rivers Wine Trail

Western Iowa Wine Trail
We encourage you to check out the Iowa Travel and Tourism website for a comprehensive list of Iowa wineries and begin your travel plans today. Link to Iowa Travel: http://bit.ly/1fC3Glz

VINEYARD UPDATE: If Winter ever ends we'll be pruning our grapevines in late March. We're getting our pruning shears ready by sharpening them, taking a peek at our vines and crossing our fingers that this extremely cold winter hasn't harmed the vines too much. The good thing is the grape vines we have in the ground at Eagle City Winery are bred to handle the cold weather of Iowa.

NEED EVENT SPACE?: Need a venue for your upcoming special event, wedding rehearsal, reception, reunion or party? Eagle City Winery has facilities and space available to rent. Please visit our website: www.eaglecitywinery.com or call 641-939-7755




EC WINES IN IOWA: Does your favorite wine store carry Eagle City wines? You can help us find new homes for our wines, simply by dropping us a note winemaker@eaglecitywinery.com or posting a note on our Facebook page.
You can find Eagle City wines at many Iowa locations: http://eaglecitywinery.com/pages/ - click on the Retail Outlet tab.

FACEBOOK: "Like" us on Facebook, share your memories and photos. Find us here: www.facebook.com/EagleCityWinery

Thank you for your business and we hope to see you soon!