Happy New Year!
We hope you had a wonderful Christmas and a fun New Year's celebration. Today we're hunkering down in anticipation for a big snowstorm and remembering the warmer days. Of course we hope you have a good supply of Eagle City wines to hold you through the storm.
While winter in Iowa can be pretty nasty there are plenty of nice days to get out and explore. If you haven't been to our winery in the wintertime (or even if you have) we'd love to have you visit, try our wines and chat with us.
We're open Tuesday-Saturday: 10am to 5pm; Sunday: 1pm to 5pm; and closed Mondays.
Hope to see you soon!
Ken & Carolyn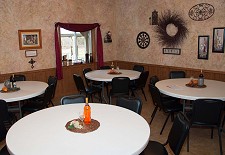 NEED EVENT SPACE? Looking for a location for your wedding? Need a venue for your upcoming special event, business retreat, reception, reunion or party? Eagle City Winery has facilities and space available to rent. Please visit our website: www.eaglecitywinery.com or call 641-939-7755.



IOWA GRAPE FACTS: Grape yields can run from 3-8 tons per acre in Iowa with the average yield typically in the 3-4 tons/acre range.
ONLINE STORE: Have you ever wanted to send a gift bottle or case of Eagle City Winery wines to your family and friends living out of state? Good News! We currently ship our wines to 18 states across the US. Give your family and friends a taste of Iowa by sending them a bottle or case today! Check out our online store: https://www.vinoshipper.com/wines/eagle_city_winery
DID YOU KNOW? You can save 5% at the winery on your Eagle City wine purchase when you buy six or more bottles?
ASK FOR QUALITY WINES. Not sure which Iowa wine to choose? Use your IQ. Wines with Iowa Quality (IQ) Wine Consortium seals have been independently tested and quality approved so choose confidently and enjoy Iowa Quality wine! We're proud to announce our newest wines: Harvest Blend and Strawberry are IQ approved - That makes a total of 13 Eagle City Wines that are Certified!
RETAIL OUTLETS. You can now find Eagle City wines at these fine retail locations. Visit: www.eaglecitywinery.com and click on "Retail Outlets."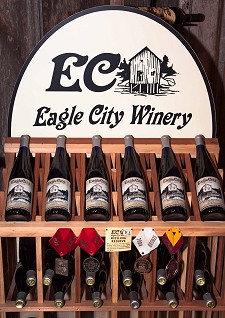 EC WINES IN IOWA: Does your favorite wine store carry Eagle City wines? You can help us find new homes for our wines, simply by dropping us a note winemaker@eaglecitywinery.com or posting a note on our Facebook page.
You can find Eagle City wines at many Iowa locations: http://eaglecitywinery.com/pages/ - click on the Retail Outlet tab.
FACEBOOK - We're on Facebook and post regularly. If you haven't yet, please "Like" us on Facebook, share your memories and photos. Feel free to ask any wine-related question and we'll do our best to answer them promptly. Find us here: www.facebook.com/EagleCityWinery
FUN FACT: 1 ton of Iowa grapes will produce approximately 150 gallons of wine which equals 750 bottles of wine.