Hello Wine Friends!
It's finally beginning to feel a little bit like spring in central Iowa. Our grapevines have been resting all winter and it's now time to get out and do some grapevine pruning. Think of it as a grapevines annual haircut. We prune to remove last year's growth and that gives the vine new vigor, allows for optimal grape production, plus it's just nice to get out in the vineyard on a warm spring day.
We're gearing up for our annual Spring Open House (June 13-14) at the winery. It's always such a treat to reconnect with our old friends and meet new ones. Please mark the date on your calendar and join us!
We'd love to have visit us this spring. We're open Tuesday-Saturday: 10am to 5pm; Sunday: 1pm to 5pm; and closed Mondays.
Hope to see you soon!
Ken & Carolyn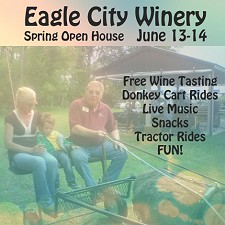 SPRING OPEN HOUSE: Eagle City Winery is pleased to announce our Spring Open House will be held on June 13 and 14, 1:00 to 5:00 PM at the winery. Each spring and fall we welcome our old friends, new friends, and those who want to know more about us to our open house. It's a family-friendly event jam-packed with fun activities for all: tractor trolley rides to the upper Eagle City Park and Ken's famous Donkey Cart rides behind EC, the winery donkey mascot.
Our Spring Open House also features free wine tastings, live music and a chance to learn more about how wine is made, and an opportunity to stroll the vineyard grounds. Bring your friends for a great afternoon of entertainment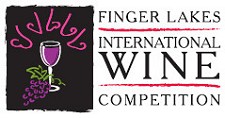 NEW WINE COMPETITION AWARDS: We are very pleased to report that Eagle City Winery did very well at the prestigious Finger Lakes International Wine Competition recently. Each of these three Eagle City wines earned Silver Medal in competition: Black Currant, Harvest Blend and our Raspberry wines.
WINE TASTINGS: We'll be doing wine tastings at these locations:
April 9 - Barnum, IA at Front and Center (6 -9 pm)

April 10 - Story City at Carousel Lanes (6 to 9pm)
NEED EVENT SPACE? Looking for a location for your wedding? Need a venue for your upcoming special event, business retreat, reception, reunion or party? Eagle City Winery has facilities and space available to rent. Please visit our website: www.eaglecitywinery.com or call 641-939-7755.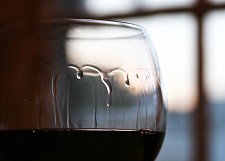 WINE LEGS OR WINE TEARS: What are they?? Pour a little wine in your glass and give it a swirl and you'll likely notice sheeting or drizzling of liquid on the inside of your glass. This ring of clear liquid, near the top of a glass of wine, from which droplets continuously form and drop back into the wine is known by wine aficionados as "legs" or "wine tears." Some people incorrectly attribute the "legs" as an indicator of goodness or quality.
What does it indicate? Simply stated Wine Tears or Legs are most likely the result of two or three possible reasons: 1) Alcohol content. Higher alcohol wines will sheet more. 2) Sweetness. The more sugar in solution the more sheeting action will be noticed. 3) Dirty wine glasses. Unfortunately, dirty wine glasses also increase sheeting action inside the glass.
NEW WINES IN DEVELOPMENT: Ken's working on a new wine, an uncommon wine that few attempt. He's making Chokecherry wine! Stay tuned for more news on this one as he continues to work on this one. Very Exciting!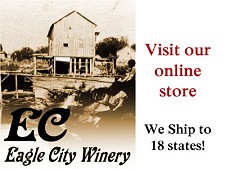 ONLINE STORE: Have you ever wanted to send a gift bottle or case of Eagle City Winery wines to your family and friends living out of state? Good News! We currently ship our wines to 18 states across the US. Give your family and friends a taste of Iowa by sending them a bottle or case today! Check out our online store: https://www.vinoshipper.com/wines/eagle_city_winery
DID YOU KNOW? You can save 5% at the winery on your Eagle City wine purchase when you buy six or more bottles?
ASK FOR QUALITY WINES. Not sure which Iowa wine to choose? Use your IQ. Wines with Iowa Quality (IQ) Wine Consortium seals have been independently tested and quality approved so choose confidently and enjoy Iowa Quality wine! We're proud to announce our newest wines: Harvest Blend and Strawberry are IQ approved - That makes a total of 13 Eagle City Wines that are certified!
RETAIL OUTLETS. You can now find Eagle City wines at these fine retail locations. Visit: www.eaglecitywinery.com and click on "Retail Outlets."
IOWA GRAPE FACTS: Late 1800's Amana wines were made on a communal basis, and each family maintained designated rows of grapes. Amana wine was made and distributed by "punchable" tickets - 20 gallons a year for men, 12 gallons for women (each gallon is about 5 bottles). Contrast that to today's average Iowa wine consumption of about 6 bottles of wine per year.
EC WINES IN IOWA: Does your favorite wine store carry Eagle City wines? You can help us find new homes for our wines, simply by dropping us a note winemaker@eaglecitywinery.com or posting a note on our Facebook page.
You can find Eagle City wines at many Iowa locations: http://eaglecitywinery.com/pages/ - click on the Retail Outlet tab.
FACEBOOK - We're on Facebook and post regularly. If you haven't yet, please "Like" us on Facebook, share your memories and photos. Feel free to ask any wine-related question and we'll do our best to answer them promptly. Find us here: www.facebook.com/EagleCityWinery