Hello Wine Friends!
The Groundhog, Punxsutawney Phil, failed to see his shadow and according to legend this year we'll have an early spring! It's hard to imagine right now with our vineyard cloaked in a deep covering of snow, but in six short weeks spring will be here and our vines will be beginning to wake up after a long rest.
February is the time of year we get anxious in the winery. It's not quite time to get out and prune the vines, though that time is fast approaching, travel is sketchy at times, but the sun is staying up a little longer each day giving us hope for the coming season. Yes, spring is just around the corner!
By the time February comes around a lot of folks are getting antsy for some travel and what's better than visiting a winery? It's really the perfect time of the year to visit us at Eagle City Winery. The weekends tend to be busier than week days but any time of the week is a great time to visit us, browse our gift shop, and taste our wines.
We're open Tuesday-Saturday: 10am to 5pm; Sunday: 1pm to 5pm; and closed Mondays.
Hope to see you soon!
Ken & Carolyn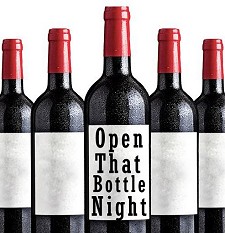 OPEN THAT BOTTLE NIGHT - Have you heard about Open That Bottle Night (OTBN)? Each year on the last Saturday of February wine lovers the world over gather together with friends to share a bottle of wine. Some people share a special bottle of wine that they've held for years while others simple open one of their favorites. This OTBN is Saturday, February 27th and we invite you to share a bottle of your favorite Eagle City Winery wine with your friends.
Have Fun - Do a Blind Tasting! Simply have someone from your group open each bottle, cover with a brown paper bag (or aluminum foil), label each container with a number and then everyone gets to sample the wines. Add a note card for an added level of interest so each wine taster can jot down preferences, rate each wine and just have fun. Is there a favorite? What did you like about each wine? Cheers!
ONLINE STORE: Have you ever wanted to send a gift bottle or case of Eagle City Winery wines to your family and friends living out of state? Good News! We currently ship our wines to 20 states across the US. Give your family and friends a taste of Iowa by sending them a bottle or case today! Check out our online store: https://www.vinoshipper.com/wines/eagle_city_winery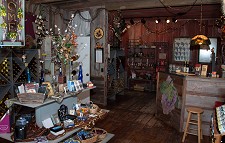 GIFTS AND WINE SUPPLIES - Our gift shop, inside our tasting room, is filled with a wide variety of gifts and supplies for the wine lover in your life. We've got a fantastic selection of functional and attractive wine racks, wine supplies and tools, and cork cages where you can keep your collection of wine closures.
WELCOME NEW RETAILER - We want to welcome Brothers Market in Grundy Center (formerly Family Foods) to our list of retail partners. Thanks for supporting our retailer friends in buying Eagle City wines!
WINE HISTORY - During the prohibition, a dehydrated grape juice brick was available for sale that included the warning: "After dissolving the brick in a gallon of water, do not place the liquid in a jug away in the cupboard for twenty days, because then it would turn into wine."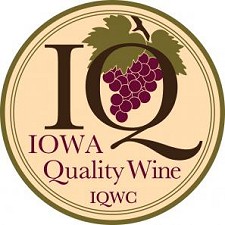 ASK FOR QUALITY WINES. Eagle City Winery is proud to report 18 of our 20 wines are IQ certified! What does that mean?
Quality Wine Assurance - To increase consumer awareness of Iowa's wine quality the Midwest Grape and Wine Industry Institute has assisted the Iowa Wine Growers Association (IWGA) to establish the Iowa Quality Wine Consortium (IQWC).To be awarded IQWC status, wines submitted will need to pass both laboratory chemical analysis and sensory evaluation to be recommended by the Wine Institute Director and approved by the Iowa Quality Wine Consortium (IQWC) board.
PARTY SPACE? Do you need a special place for your upcoming holiday party? Are you looking for a location for your wedding? Need a venue for your upcoming special event, business retreat, reception, reunion or party? Eagle City Winery has facilities and space available to rent. Please visit our website: www.eaglecitywinery.com or call 641-939-7755.
WINE UPDATE: We are out of our delicious Edelweiss wine until next fall.
DID YOU KNOW? You can save 5% at the winery on your Eagle City wine purchase when you buy six or more bottles?
RETAIL OUTLETS. Eagle City Winery wines are available across Iowa at many retailer locations. Wonder if we're near you? Visit: www.eaglecitywinery.com and click on "Retail Outlets."
EC WINES IN IOWA: Does your favorite wine store carry Eagle City wines? You can help us find new homes for our wines, simply by dropping us a note winemaker@eaglecitywinery.com or posting a note on our Facebook page.
You can find Eagle City wines at many Iowa locations: http://eaglecitywinery.com/pages/ - click on the Retail Outlet tab.
FACEBOOK - We're on Facebook and post regularly. If you haven't yet, please "Like" us on Facebook, share your memories and photos. Feel free to ask any wine-related question and we'll do our best to answer them promptly. Find us here: www.facebook.com/EagleCityWinery