Hello Wine Friends!
Spring is finally returning to our vineyard and central Iowa landscape with hints of green emerging from the vines and trees. We've just got back word from one of wine competitions we entered and did quite well (see below for more) and we're planning for our big spring open house.
Stop by the winery soon to try our wines and spend some time sipping wine and relaxing in our gathering room, wandering in our vineyard, and checking out our latest gift shop items. We're open Tuesday-Saturday: 10am to 5pm; Sunday: 1pm to 5pm; and closed Mondays.
Hope to see you soon!
Ken & Carolyn
APRIL IS IOWA WINE MONTHS! The Governor of Iowa signed an official proclamation declaring April as Iowa Wine Month! Now that's a great reason to plan your visit to Eagle City Winery this month!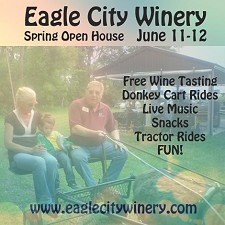 SPRING OPEN HOUSE: Eagle City Winery is pleased to announce our Spring Open House will be held on June 11-12, 1:00 to 5:00 PM at the winery. Each spring and fall we welcome our old friends, new friends, and those who want to know more about us to our open house. It's a family-friendly event jam-packed with fun activities for all: tractor trolley rides to the upper Eagle City Park and Ken's famous Donkey Cart rides behind EC, the winery donkey mascot.
Our Spring Open House also features free wine tastings, live music and a chance to learn more about how wine is made, and an opportunity to stroll the vineyard grounds. Bring your friends for a great afternoon of entertainment.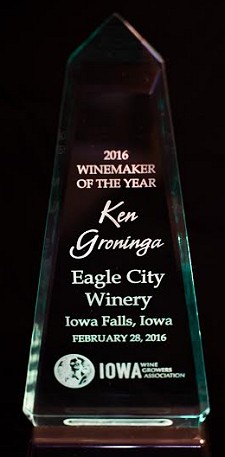 Eagle City Winery: Ken Groninga 2016 Iowa Winemaker of the Year.
FINGER LAKES INTERNATIONAL WINE COMPETITION: The results are in from the Finger Lakes International Wine Competition and we're proud to announce our Raspberry wine won a Gold medal and our Apple wine won Silver! Congrats to our winemaker Ken for continuing his legacy as a top notch winemaker!
ASK FOR QUALITY WINES. Eagle City Winery is proud to report 18 of our 20 wines are IQ certified! What does that mean?
Quality Wine Assurance - To increase consumer awareness of Iowa's wine quality the Midwest Grape and Wine Industry Institute has assisted the Iowa Wine Growers Association (IWGA) to establish the Iowa Quality Wine Consortium (IQWC).To be awarded IQWC status, wines submitted will need to pass both laboratory chemical analysis and sensory evaluation to be recommended by the Wine Institute Director and approved by the Iowa Quality Wine Consortium (IQWC) board.
GIFTS AND WINE SUPPLIES - Our gift shop, inside our tasting room, is filled with a wide variety of gifts and supplies for the wine lover in your life. We've got a fantastic selection of functional and attractive wine racks, wine supplies and tools, and cork cages where you can keep your collection of wine closures.
ONLINE STORE: Have you ever wanted to send a gift bottle or case of Eagle City Winery wines to your family and friends living out of state? Good News! We currently ship our wines to 20 states across the US. Give your family and friends a taste of Iowa by sending them a bottle or case today! Check out our online store: https://www.vinoshipper.com/wines/eagle_city_winery
PARTY SPACE? Do you need a special place for your upcoming holiday party? Are you looking for a location for your wedding? Need a venue for your upcoming special event, business retreat, reception, reunion or party? Eagle City Winery has facilities and space available to rent. Please visit our website: www.eaglecitywinery.com or call 641-939-7755.
WINE 101: Tannins: Naturally occurring substances found mostly in grape skins, seeds and stems. They can give young wines a mouth-puckering bitterness and astringency, but some tannins are desirable in red wines to give them structure.
WINE UPDATE: We are out of our delicious Edelweiss wine until next fall.
DID YOU KNOW? You can save 5% at the winery on your Eagle City wine purchase when you buy six or more bottles?
RETAIL OUTLETS. Eagle City Winery wines are available across Iowa at many retailer locations. Wonder if we're near you? Visit: www.eaglecitywinery.com and click on "Retail Outlets."
EC WINES IN IOWA: Does your favorite wine store carry Eagle City wines? You can help us find new homes for our wines, simply by dropping us a note winemaker@eaglecitywinery.com or posting a note on our Facebook page.
You can find Eagle City wines at many Iowa locations: http://eaglecitywinery.com/pages/ - click on the Retail Outlet tab.
FACEBOOK - We're on Facebook and post regularly. If you haven't yet, please "Like" us on Facebook, share your memories and photos. Feel free to ask any wine-related question and we'll do our best to answer them promptly. Find us here: www.facebook.com/EagleCityWinery