Hello Wine Friends,
The holidays are just around the corner and we wanted to say thank you for supporting Eagle City Winery. This is a great time of year to stock up on our wines in time for Thanksgiving and Christmas.
Visit us! Make sure to stop by the winery soon to try our wines and spend some time sipping wine and relaxing in our gathering room, wandering in our vineyard, and checking out our latest gift shop items. We're open Tuesday-Saturday: 10am to 5pm; Sunday: 1pm to 5pm; and closed Mondays.
See you soon!
Ken & Carolyn
HOLIDAYS ARE COMING: The holidays will be here before you know it so now is the perfect time to stock up on Eagle City Winery wines. Bonus: You can save 5% at the winery on your Eagle City wine purchase when you buy six or more bottles?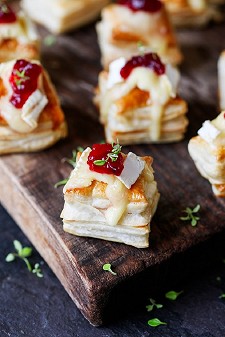 EASY HOLIDAY RECIPE: Check out this delicious and easy-to-make Cranberry & Brie Bites appetizer
Prep Time: 10 mins
Cook Time: 12 mins
Total Time: 22 mins
Serves: 20
INGREDIENTS
14oz ready rolled Puff Pastry
1 egg, lightly whisked
6oz Brie
6 tbsp Cranberry Sauce
Fresh thyme leaves to decorate
INSTRUCTIONS
1. Preheat the oven to 400 degrees and line a baking tray with baking parchment or a silicone liner.
2. Unroll the pastry and brush with egg wash, then cut the pastry into approx 40 small rectangles. Place one rectangle on top of another and repeat with the rest of the pastry, so you have 20 or so 'doubled up' rectangles of pastry. Place on the prepared tray and bake for 10 minutes. Then take out of the oven.
3. Slice the Brie into small slices and place on top of the pastry puffs. Place back in the oven for 1-2 minutes to melt the brie.
4. Place the puffs on a plate and top each one with a small blob of cranberry sauce and a few fresh thyme leaves, then serve.
Serve with your favorite Eagle City Winery white or fruit wine. Yummy!
ONLINE STORE: Have you ever wanted to send a gift bottle or case of Eagle City Winery wines to your family and friends living out of state? Good News! We currently ship our wines to 20 states across the US. Give your family and friends a taste of Iowa by sending them a bottle or case today! Check out our online store: https://www.vinoshipper.com/wines/eagle_city_winery
WINE UPDATE: We are happy to report our Edelweiss is back in stock but we are presently out of Riesling Reserve and Golden Riesling. Stay tuned for updates!
KEN ON CAMERA: The Wine Diamonds documentary film team visited us late last winter and filmed an interview with owner/winemaker Ken Groninga and then afterwards shot a short web series episode called, "on the road." Click here to watch the short video: https://youtu.be/w_djLgueJOg - learn more about the film project by visiting: www.winediamondsfilm.com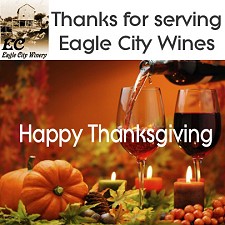 PARTY SPACE? Do you need a special place for your upcoming holiday party? Are you looking for a location for your wedding? Need a venue for your upcoming special event, business retreat, reception, reunion or party? Eagle City Winery has facilities and space available to rent. Please visit our website: www.eaglecitywinery.com or call 641-939-7755.
GIFTS AND WINE SUPPLIES - Our gift shop, inside our tasting room, is filled with a wide variety of gifts and supplies for the wine lover in your life. We've got a fantastic selection of functional and attractive wine racks, wine supplies and tools, and cork cages where you can keep your collection of wine closures.
FUN WINE FACT: Chances are you've been stumped by this question: How do you save an open bottle of wine and ensure it will be delicious the next day? Ditch the fancy gadgets & gizmos. Follow these two tricks!
As you know from earlier Wine 101 articles about wine, oxygen is a frenemy to wine. Oxygen initially improves the taste of wine, but extended exposure can ultimately ruin a wine. While there are several fancy gadgets on the market that can help you remove oxygen from unfinished bottles, if you follow one of our two tricks, you won't need to waste a small fortune to ensure your wine will last another day.
Trick #1: One of the biggest threats to wine is surface area. The more wine in contact with oxygen, the more quickly it will start to degrade. If you've only drank half a bottle of wine, this means the leftover wine in the bottle is now exposed to a half bottle of oxygen, no good if you want to drink the wine tomorrow.
A neat trick to avoid this problem is by transferring your wine into a smaller container. For this, we like to use a half bottle (375 ml) of wine. Half bottles can be found at most stores that also sell regular bottles (750 ml) of wine, and they are perfect for storing wine you want to save for another day. Simply drink the wine that originally came in the half bottle and then rinse out the bottle well with water. When you have a wine you want to save, transfer the leftover wine from your regular size bottle into the empty half bottle, and then close the bottle with a cork or even saran wrap, you just want to make sure there is a seal. Next, place the bottle in the fridge (more on why you should do that below). The wine should last at least 2 more days in it's new, smaller home. Once you finish up your wine, you can rinse the half bottle and use it again and again, no need for a fancy gadget.
Trick #2: If you don't have a half-bottle or small container lying around, a great way to ensure your wine will last at least another day is by placing it in the fridge. Due to the cold temperature inside your refrigerator, oxygen is not able to inflict the same damage at the same speed as it would if you left the bottle out on your counter. In order to ensure the wine still taste great tomorrow, simply replace the cork or screw the cap, and move the bottle into the fridge. Your wine should still be great the next night, ready to be polished off when you get home from work.
Source: Vinepair
DID YOU KNOW? You can save 5% at the winery on your Eagle City wine purchase when you buy six or more bottles?
RETAIL OUTLETS. Eagle City Winery wines are available across Iowa at many retailer locations. Wonder if we're near you? Visit: www.eaglecitywinery.com and click on "Retail Outlets."
EC WINES IN IOWA: Does your favorite wine store carry Eagle City wines? You can help us find new homes for our wines, simply by dropping us a note winemaker@eaglecitywinery.com or posting a note on our Facebook page.
You can find Eagle City wines at many Iowa locations: http://eaglecitywinery.com/pages/ - click on the Retail Outlet tab.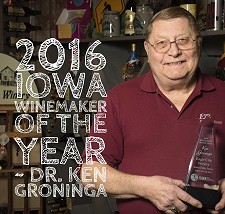 2016 IOWA WINEMAKER OF THE YEAR! Congratulations to Eagle City Winery owner/winemaker Ken Groninga for this important achievement.
FACEBOOK - We're on Facebook and post regularly. If you haven't yet, please "Like" us on Facebook, share your memories and photos. Feel free to ask any wine-related question and we'll do our best to answer them promptly. Find us here: www.facebook.com/EagleCityWinery
ASK FOR QUALITY WINES. Eagle City Winery is proud to report 18 of our 20 wines are IQ certified! What does that mean?
Quality Wine Assurance - To increase consumer awareness of Iowa's wine quality the Midwest Grape and Wine Industry Institute has assisted the Iowa Wine Growers Association (IWGA) to establish the Iowa Quality Wine Consortium (IQWC).To be awarded IQWC status, wines submitted will need to pass both laboratory chemical analysis and sensory evaluation to be recommended by the Wine Institute Director and approved by the Iowa Quality Wine Consortium (IQWC) board.