Hello Wine Friends!
We're beginning to see hopeful signs that winter has past its midway point with more daylight, a couple weeks of warmer than usual temperatures, and the knowledge spring is less than two months away.
In the winery things are quiet, the wine is relaxing and aging nicely in the tanks, soon we'll be busy bottling again. Before long, we'll be back in the vineyard doing our early spring grape vine pruning. There is always something to do in the winery business. And the best part of all is meeting our friends who visit during this time of the year. It's especially enjoyable this time of year when we have a few extra moments to really connect with you, talk wine, give tours and be a bit more relaxed than during the summer months.
We'd love to have visit us this winter. We're open Tuesday-Saturday: 10am to 5pm; Sunday: 1pm to 5pm; and closed Mondays.
Hope to see you soon!
Ken & Carolyn
NEED EVENT SPACE? Looking for a location for your wedding? Need a venue for your upcoming special event, business retreat, reception, reunion or party? Eagle City Winery has facilities and space available to rent. Please visit our website: www.eaglecitywinery.com or call 641-939-7755.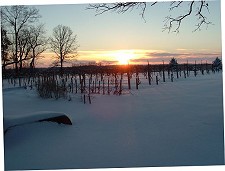 FUN FACT: Beverage Information Group, in a 2013 report, gauged the average amount of wine consumed by state. On average, those living in the District of Columbia enjoyed nearly 26 liters of wine per person per year (there are 3.785 liters per gallon). The top consuming states were: New Hampshire, Vermont, Massachusetts, New Jersey, Nevada, Connecticut, and California. Where is Iowa on this list? Iowa was eight from the bottom with an average of 4.7 liters per person per year of wine consumed. C'mon, surely we can do better!

ONLINE STORE: Have you ever wanted to send a gift bottle or case of Eagle City Winery wines to your family and friends living out of state? Good News! We currently ship our wines to 18 states across the US. Give your family and friends a taste of Iowa by sending them a bottle or case today! Check out our online store: https://www.vinoshipper.com/wines/eagle_city_winery
DID YOU KNOW? You can save 5% at the winery on your Eagle City wine purchase when you buy six or more bottles?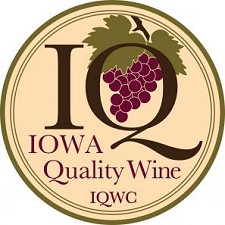 ASK FOR QUALITY WINES. Not sure which Iowa wine to choose? Use your IQ. Wines with Iowa Quality (IQ) Wine Consortium seals have been independently tested and quality approved so choose confidently and enjoy Iowa Quality wine! We're proud to announce our newest wines: Harvest Blend and Strawberry are IQ approved - That makes a total of 13 Eagle City Wines that are certified!
RETAIL OUTLETS. You can now find Eagle City wines at these fine retail locations. Visit: www.eaglecitywinery.com and click on "Retail Outlets".
IOWA GRAPE FACTS: Grape vines are pruned in late winter or early spring. Approximately 90% of last year's growth is pruned off the vine each year at this time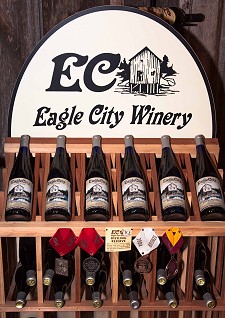 EC WINES IN IOWA: Does your favorite wine store carry Eagle City wines? You can help us find new homes for our wines, simply by dropping us a note winemaker@eaglecitywinery.com or posting a note on our Facebook page.
You can find Eagle City wines at many Iowa locations: http://eaglecitywinery.com/pages/ - click on the Retail Outlet tab.
FACEBOOK - We're on Facebook and post regularly. If you haven't yet, please "Like" us on Facebook, share your memories and photos. Feel free to ask any wine-related question and we'll do our best to answer them promptly. Find us here: www.facebook.com/EagleCityWinery