Hello Wine Friends!
Thanks for making our Spring Open House the biggest and best event to date! We had visitors from all over Iowa come to enjoy an afternoon at the winery, listen to some live music, enjoy our wines, take a wagon ride, and just enjoy a day with friends and family.
With all of the recent rain and cool temperatures our vineyard is growing like mad and the landscape around us is a brilliant green. We know your summer schedule is very busy and we hope you can fit us into your summer plans by making a trip out to the winery soon.
We'd love to have you visit us this month. We're open Tuesday-Saturday: 10am to 5pm; Sunday: 1pm to 5pm; and closed Mondays.
Hope to see you soon!
Ken & Carolyn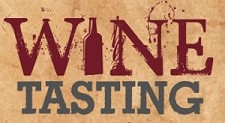 WINE TASTINGS: Join us in Ankeny on July 12th. You'll find Eagle City Winery at the Corks and Caps event in Ankeny on July 12th (1-4pm). Address: 1210 NW Prairie Ridge Drive, Ankeny, IA.
WINE UPDATE: You might want to stock up on these "in-low-supply" wines: Edelweiss, Riesling Reserve, and Black Currant. We are out of Sweet Riesling.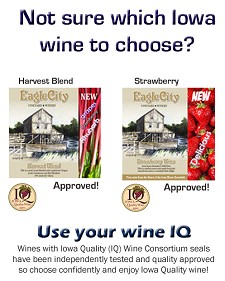 ASK FOR QUALITY WINES. BIG NEWS! Our new Chokecherry wine is now IQ certified! Eagle City Winery is proud to report 18 of our 20 wines are IQ certified! What does that mean?
Quality Wine Assurance - To increase consumer awareness of Iowa's wine quality the Midwest Grape and Wine Industry Institute has assisted the Iowa Wine Growers Association (IWGA) to establish the Iowa Quality Wine Consortium (IQWC).To be awarded IQWC status, wines submitted will need to pass both laboratory chemical analysis and sensory evaluation to be recommended by the Wine Institute Director and approved by the Iowa Quality Wine Consortium (IQWC) board.
DID YOU KNOW? You can save 5% at the winery on your Eagle City wine purchase when you buy six or more bottles?
ONLINE STORE: Have you ever wanted to send a gift bottle or case of Eagle City Winery wines to your family and friends living out of state? Good News! We currently ship our wines to 18 states across the US. Give your family and friends a taste of Iowa by sending them a bottle or case today! Check out our online store: https://www.vinoshipper.com/wines/eagle_city_winery
IOWA GRAPE FACTS: Grape vines are very sensitive to 2,4-D and dicamba (phenoxy type) herbicides used to kill broadleaves in lawns, crops, pastures and roadside ditches.
RETAIL OUTLETS. You can now find Eagle City wines at these fine retail locations. Visit: www.eaglecitywinery.com and click on "Retail Outlets."
EC WINES IN IOWA: Does your favorite wine store carry Eagle City wines? You can help us find new homes for our wines, simply by dropping us a note winemaker@eaglecitywinery.com or posting a note on our Facebook page.
You can find Eagle City wines at many Iowa locations: http://eaglecitywinery.com/pages/ - click on the Retail Outlet tab.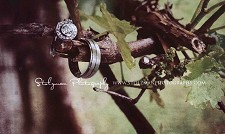 NEED EVENT SPACE? Looking for a location for your wedding? Need a venue for your upcoming special event, business retreat, reception, reunion or party? Eagle City Winery has facilities and space available to rent. Please visit our website: www.eaglecitywinery.com or call 641-939-7755.
FACEBOOK - We're on Facebook and post regularly. If you haven't yet, please "Like" us on Facebook, share your memories and photos. Feel free to ask any wine-related question and we'll do our best to answer them promptly. Find us here: www.facebook.com/EagleCityWinery
AWARD WINNING WINES: The prestigious Tasters Guild Wine Competition results are in! We are pleased and proud to report our Apple Wine received a DOUBLE GOLD Medal! This means all the judges agreed our apple wine was best among the best!
Wonder how many Eagle City wines have earned distinction in competition over the past years?
Black Currant: 2 Double Gold and 3 Gold
Apple: 1 Double Gold
Raspberry: 2 Gold
Harvest Blend: 1 Gold
Cranberry: 1 Gold
Eagle City Red: 1 Gold
75 Silver and Bronze medals with a total of 86 awards!
Congratulations to our winemaker Ken on this amazing accomplishment!