Hello Eagle City Winery Friends,
Now that the harvest is behind us, our tanks fermenting with the familiar aroma of young wine, and our final big event is nearing, we take a moment to pause and take stock of all the great times we've had this year so far.
Thank you for your continued support! We understand there are a lot of wine options out there and many great wines to choose from and we really appreciate your patronage, your support, and getting to know you. We may not be the biggest winery but we take a lot of pride in making quality wine and sharing it with our friends and fans.
We hope you can make it out to our Fall Open House (Oct. 12-13)!
See you soon!
Ken & Carolyn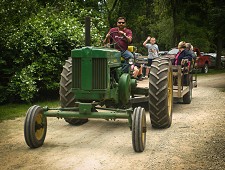 FALL OPEN HOUSE - Is it Fall already?! Crisp blue skies, fermenting wines, live entertainment, and donkey and tractor rides are part of the Eagle City Winery tradition. Plan ahead and bring your friends and family to our Fall Open House (Oct. 12-13).
Don't want to drive home? The Upper and Lower Eagle City Parks are located directly adjacent to the winery and they are open for primitive camping at no charge. How about a bottle of Raspberry or Apple wine around the campfire?
NEED EVENT SPACE? Need a venue for your upcoming special event, wedding rehearsal, reception, reunion or party? Eagle City Winery has facilities and space available to rent. Please visit our website: www.eaglecitywinery.com or call 641-939-7755.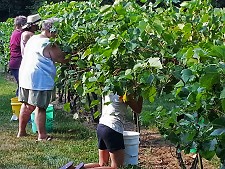 GRAPE HARVEST COMPLETE - Our annual grape harvest was a huge success with volunteers arriving on Saturday, September 7th and helping us pick our grapes. For those that helped us this year, thank you so much, we couldn't have done it without you. For those that weren't able to make it we hope you can join next year!
WINE UPDATE: New Wine: We're waiting on label approval for a new wine! This wine is a new blush wine made from a blend of Cranberry and Rhubarb, called "Harvest Blend". Temporarily Out of Stock: We are temporarily out of Edelweiss and Eagle City White. We're hoping to have them back on our shelves by our October open house date.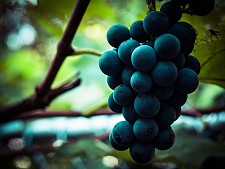 IN THE VINEYARD: Our grapes are picked, the vines are taking one long last deep breath as they prepare for a winter rest, and we're very pleased with this year's harvest. Our hardy vines reflect their age, producing exceptional grapes and yielding delicious wines, and as the third oldest winery in Iowa we're delighted with our vineyard.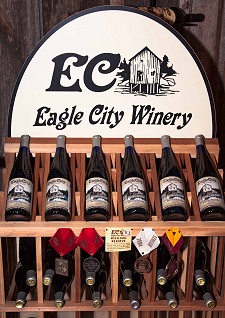 FIND EC WINES: Does your favorite wine store carry Eagle City wines? You can help us find new homes for our wines, simply by dropping us a note winemaker@eaglecitywinery.com or posting a note on our Facebook page.
You can find Eagle City wines at many Iowa locations: http://eaglecitywinery.com/pages/ - click on the Retail Outlet tab.
Coming soon: Ackley, IA (Casey's General Store).
WINE TASTINGS - Help us support our retailers and try our wines!
October 5 (12pm-5pm) - Clear Lake: Harvest Festival (Larsens Mercantile)
October 12 (11am-3pm) - Iowa Falls: Wine Around Town (The Copper Cupboard)
October 12 and 13 - Eagle City Winery Fall Open House, Iowa Falls
FACEBOOK - "Like" us on Facebook, share your memories and photos.
Find us here: www.facebook.com/EagleCityWinery